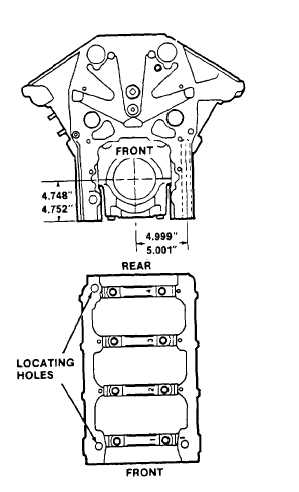 TM 5-4210-220-34
3-8.
ENGINE - Continued
3-8.11
Cylinder Block - Continued
(5)     Drill   four   1/8   in.      holes   in   saddle   1/4   in.
deep  using  predrilled  holes  in  insert  as  a
guide.
WARNING
Death   or   serious   injury   could   occur   if
compressed  air  is  directed  against  the
skin.      Do   not   use   compressed   air   for
cleaning  or  drying  unless  the  pressure
is/has   been   reduced   to   30   psi   (2.11
kg/cm2)   or   less.      When   working   with
compressed air always use chip guards,
eye
protection
and
other
personal
protective equipment.
(6)     Use compressed air to clean drilled holes.
(7)     Install   rivets,   being   careful   not   to   strike
insert.      Rivets   are   used   only   for   locating
insert; the bearing cap holds insert in place.
File of any excess rivet material.
(8)     Remove    hold    down    bolts    and    retaining
plates.  File any excess material from insert
to make flush with the saddle cap.
(9)     Install unfinished new undersize service cap
on  repaired  saddle.    Tighten  to  240  ft  lb
(325 Nm).
(10)  Line  bore  the  unfinished  cap  and  insert  to
standard  bore  dimensions  of  4.812  4.813
in.  (122.22 - 122.25 mm).
(11)  Check finished bore with 'NO/GO' test ring.
The ring should pass through the reworked
saddle and cap with a slight drag.
(12)  If cylinder block line is properly bored, there
will  be  no  more  than  0.001  in.    (0.03  mm)
overall misalinement from one end of block
to other, or 0.0005 in.  (0.013 mm) between
adjacent bores.
(13)  Thoroughly clean block.
3-194