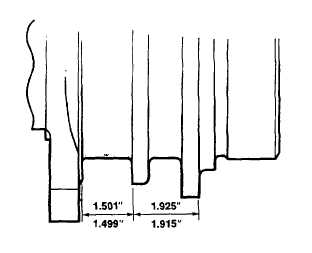 TM 5-4210-220-34
3-8.
ENGINE - Continued
3-8.10
Crankshaft - Continued
NOTE
To
determine
journal-to-bearing
clearance,   use   the   lowest   dimensional
figure
obtained
from
the
journal
measurements  and  compare  it  with  the
highest  figure  in  the  bearing  table.    All
measurements    must    be    accurate    to
nearest   0.0002   in.      (.005   mm).      The
bearing
clearances
can
also
be
measured  using  crushable  plastic  strip,
Use    the    0.002    0.006    in.          size     to
determine   the   clearance.      Always   use
new    bearing    shells    and    tighten    the
bearing  caps  (main  journal  to  260  ft  lb
(350 Nm), connecting rod journal to 70 ft
lb (95 Nm).
(15)  Measure    the    crankshaft    thrust    washers
surfaces as shown.
(16)  If
any
dimensions
are
outside
the
tolerances,
the
crankshaft
must
be
replaced.
(17)  Inspect  the  crankshaft  for  cracks  using  any  of  the  techniques  detailed  in  para.    2-7.    The  two  types  of
indications  to  look  for  are  circumferential  fillet  cracks  in  the  critical  areas  shown  or  45  deg.    with  the  axis
cracks starting from either the critical fillet locations or the connecting rod journal holes.
(18)  Replace the crankshaft if cracks of any nature are found.
INSTALLATION
(1)     If   a   new   crankshaft   is   to   be   installed,   steam   clean   it   with   all   oil   plugs   removed,   to   remove   the   rust
preventative.
WARNING
Death   or   serious   injury   could   occur   if   compressed   air   is   directed   against   the   skin.      Do   not   used
compressed air for cleaning or drying unless the pressure is/has been reduced to 30 psi (2.11 kg/cm2) or
less.    When  working  with  compressed  air,  always  use  chip  guards,  eye  protection  and  other  personal
protective equipment.
(2)     Blow out all oil passages with compressed air and install the plugs.
(3)     Install the crankshaft timing gear (12) on the crankshaft (10) as detailed in para.  3-8.7.
(4)     Install the oil pump drive gear as detailed in para.  2-19.10.
(5)     Install new slotted main bearing shells (16) in the block.
(6)     Install new plain bearing shells (5) in the main bearing caps (18).  Be sure the tang on the bearing fits into the
groove in the bearing cap.
3-178