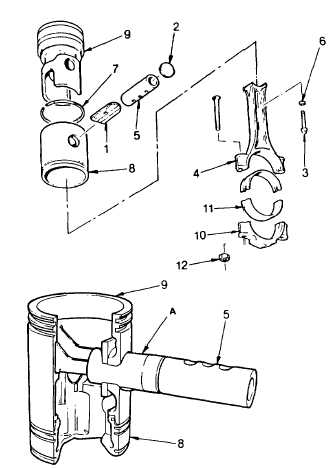 TM 5-4210-220-34
3-8.
ENGINE - Continued
NOTE
Four inserts are available to adjust liner height during installation.
Size
Thickness
Identification
(New Inserts)
std.
.1188 - .1193 in.
Black oxide or 2 purple stripes
std.
.1200 - .1205 in
No Color
std.
.1212 - .1217 in.
Copper or 2 orange stripes
+.015in.
.1362 - .1367 in.
White and orange stripe
(11)  Mark liner and block with felt pen so liner may be reinstalled in same position in the same block bore.
(12)  Remove cylinder liner hold down clamps.
b.
Piston Installation
(1)     Install bearing bushing (1) into the piston crown.  It should slide in without force.  It must be installed before
assembling piston skirt (8) to crown (9).
(2)     Lubricate the metal seal ring (7) with engine
oil  (Item  17,  Appendix  B)  and  install  into
ring    groove    of    crown    with    the    chamfer
toward the bottom of piston.
(3)     Compress
seal
ring
(7)
with
ring
compressor J24226.
(4)     Push   skirt   (8)   into   position   on   the   piston
crown (9)
(5)     Place  piston  assembly  resting  crown  down
on  bench.    Rotate  skirt  full  360  deg.    on
crown.  Seal ring must not bind or have any
tight spots.  If seal ring sticks, remove tight
spots with flat file.  Replace piston crown if
binding cannot be relieved.
(6)     Lubricate piston pin (5) with engine oil (item
17,  Appendix  B).    Line  up  the  piston  pin
opening   in   the   piston   skirt   (8)   with   the
bearing   opening   in   piston   crown   (9)   with
alinement     tool     J24285     (A)     to     prevent
damage  to  pin  (5)   or   bearing   (1).      Then
install piston pin.
3-169