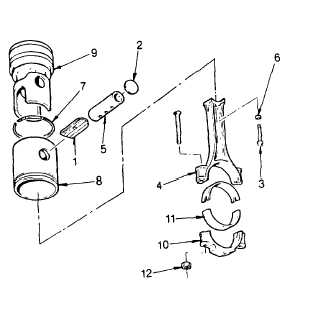 TM 5-4210-220-34
3-8.
ENGINE - Continued
(4)
Push rod/piston assembly out through the top of cylinder block.
NOTE
Piston  cannot  be  removed  from  the  bottom  of  block.    Piston/rod  assembly  component  parts  should  be
marked during disassembly to ensure that mating parts are reassembled together.
(5)
Secure    rod/piston    assembly  in  soft  jawed
vise  with  piston  skirt  (8)  resting  on  jaws  of
vise.    Using  tool  J8128,  remove  all  piston
rings and discard.
(6)
Punch  a  hole  through  the  center  of  one  of
the  piston  pin  retainers  (2).    Pry  retainer
from   piston.      Be   careful   not   to   damage
piston or bushing.  Remove other retainer.
(7)
Loosen    the    two    bolts    (3)    which    secure
connecting     rod     (4)     to     piston     pin     (5).
Remove   assembly   from   vise.      Place   on
bench and remove bolts (3) and spacers (6)
and remove connecting rod (4).
(8)
Tape   together   and   tag   upper   and   lower
bearing  shells  for  inspection  later  and  for
proper   sizing   during   installation.      Always
replace bearing shells during assembly.
(9)
Install    cap    on    connecting    rod.        Snug
retaining    nuts    to    connecting    rod    bolts.
Piston,    Liner,    Rings,     Rod     and     Rod
Bearings.

Tag rod assembly for inspection.
(10)
Remove
piston
pin
(5)
from
piston
assembly.
Avoid personal injury when disassembling piston.  Keep fingers out of piston pin hole area.  Wear safety shoes.
(11)
Grasp piston assembly by skirt area, bring piston assembly down on tool J33048 in the pin area of piston with
sufficient force to separate the crown (9) from the skirt (8)
(12)
Remove seal ring (7) from piston crown.
3-163
(13)
Remove piston pin bushing (1).
3-163