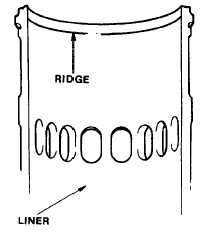 TM 5-4210-220-34
3-8.
ENGINE.
3-8.9
Piston, Liner, Rings, Rod and Rod Bearings.
This task covers
a.
Removal
b.
Inspection
c.
Installation
TOOLS
EQUIPMENT CONDITION
Shop Equipment, AutomotiveMain Engine Shutdown (see TM 5-4210-220-12)
Maintenance and Repair,
APU Shutdown (see TM 5-4210-220-12)
NSN 4910-00-754-0705
Batteries Disconnected (see TM 5-4210-220-12)
J8128 Ring Expander
Cab and Pump Body Head Shields Removed (see TM
J33048 Piston Disassembly Tool
5-4210-220-12)
J24599 Piston Ring Gage
Cooling System Drained (see LO 5-4210-220-12)
J28460 Reamer
Engine Oil Drained (see LO 5-4210-220-12)
J24563-A Sleeve Puller Set
Cylinder Head Removed (see para.  2-19.8)
J23059-01 Master Setting Gage
J5902-01 Cylinder Hone Set
MATERIALS/PARTS
J5347-B Cylinder Bore Gage
2, Appendix B Antifreeze
J24564 Master Ring Gage
4, Appendix B Antiseize Compound
J24565-02 Hold Down Clamp Set
10, Appendix B Dry Cleaning Solvent
J24898 Cylinder Liner Depth Gage
17, Appendix B Engine Oil
J24226 Piston Seal Ring
J24285 Piston Pin Alignment Tool
PERSONNEL REQUIRED - 2
J23762 Piston Pin Retainer Installer
J23987-01 Leak Detector
J5438-01 Feeler Gage Set
J24227 Ring Compressor
NOTE
Piston  and  piston  liners  may  be  removed  with  engine  in  truck.    The  following  instructions  are  written
assuming engine is in truck.  REMOVAL
During disassembly of engine, tag and label all parts so related mating parts are identified for inspection and rebuild
procedure.
a.
Piston and Rod Removal
(1)
Remove   oil   pan   as   detailed   in   para.      2-
19.11.
(2)
Inspect     bore     of     liner     before     removing
piston/rod  assembly  for  wear  ridge  formed
at   top   of   liner   by   the   piston   ring   travel.
Ridge must be removed with cylinder ridge
reamer   (e.g.,   Snap-On   WR-25)   to   avoid
ring   breakage   and   piston   damage   during
removal of piston/rod assembly.
(3)
Remove
rod
cap
retaining
nuts
(12),
bearing   cap   (10),   and   lower   rod   bearing
(11).
3-162