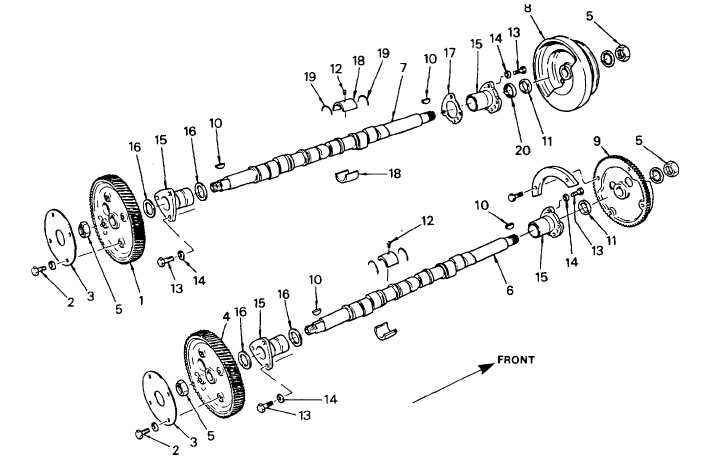 TM 5-4210-220-34
3-8.
ENGINE - Continued
(2)
Apply grease (item 16, Appendix B) to the steel  face  of  each  thrust  washer  (16)  and  then  place  one  thrust
washer against each end of the two camshaft rear end bearings (15).  Make sure the steel face of each thrust
washer faces the bearing.
(3)
Lubricate the rear camshaft bearing journal with engine oil (item 17, Appendix B) and slide a rear end bearing
on  each  camshaft.    Make  sure  the  bolting  flange  of  the  bearing  is  positioned  toward  the  outer  end  of  the
shaft.
(4)
Install the woodruff key (10) in the camshaft (7)
(5)
Start the gear (1) over the end of camshaft (7), with the key (10) in the shaft alined with the key way in the
gear.  Using tool J1903 install the gear onto the camshaft.  Install gear (4) onto shaft (6) in a similar manner.
(6)
Thread the camshaft gear retaining nuts (5) onto the end of the camshafts (6 and 7).  Tighten the nuts after
the camshafts are installed in the engine block.
(7)
Lubricate  the  camshaft  intermediate  bearing  journals  with  engine  oil  (item  17,  Appendix  B).    Install  the  two
halves of each intermediate bearing (18) on a camshaft journal and lock the halves together with the two lock
rings (19).  Make sure each lock ring is installed so that the gap is positioned over the upper bearing and that
the ends are an equal distance above the split line of the bearings.
3-159