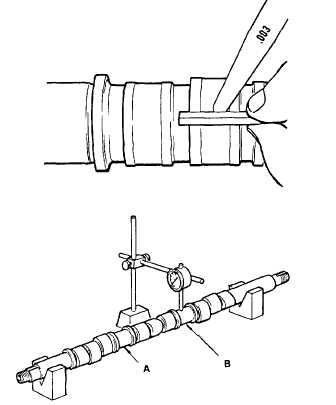 TM 5-4210-220-34
3-8.
ENGINE - Continued
INSPECTION
WARNING
Dry cleaning solvent P-D-680 (safety or Stoddard's solvent) is potentially dangerous.  Avoid repeated and prolonged
breathing of vapors and skin contact with the liquid.  Do not use near open flame, arcing equipment or other ignition
sources Always wear eye protection and protective clothing.  The flash point of P-D-680 is 100 to 138 deg.  F (30 to
59 deg.  C).
Death or serious injury could occur if compressed air is directed against the skin.  Do not use compressed air for
cleaning  or  drying  unless  the  pressure  is/has  been  reduced  to  30  psi  (2  11  kg/cm2)  or  less.    When  working  with
compressed air always use chip guards, eye protection and other personal protective equipment.
(1)
Soak the camshafts in dry cleaning solvent (item 10, Appendix B).
(2)
Remove sludge or foreign material from camshaft oil gallery using a small wire brush.
(3)
Clean the camshaft exterior using dry cleaning solvent (Item 10, Appendix B) and dry using compressed air.
Blow oil gallery and oil holes using compressed air.
(4)
Inspect  the  cam  lobes  and  journals  for  wear  or  scoring.    If  the  cam  lobes  are  scored,  inspect  the  cam
followers  as  detailed  in  para.    2-19.4.    Front  and  rear  journal  diameters  should  be  1.4970  to  1.4975  in.
(38.024  to  30.037  mm).    Intermediate  journal  diameters  should  be  1.4980  to  1.4985  in.    (38.049  -  38.062
mm).
(5)
Using a tapered leaf set of feeler gages and
a  piece  of  square  hard  material,  measure
the flat on the injector rise side of  the  cam
lobes.  If the flats measure less than 0.003
in.      (0.008   mm)   and   there   are   no   other
defects,   the   camshaft   is   satisfactory   for
service.      A   slightly   worn   cam   lobe,   still
within acceptable limits, may be stoned and
smoothed over using fine crocus cloth (item
7, Appendix B).
(6)
Check
the
camshaft
runout
at
the
intermediate   bearing   surfaces   (A   and   B)
with the camshaft mounted on V-blocks  as
shown.  Runout should not exceed 0.002 in.
(0.05 mm).
3-157