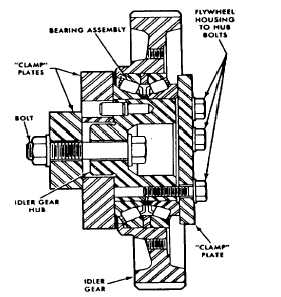 TM 5-4210-220-34
3-8.
ENGINE - Continued
NOTE
Prior to the installation of the idler gear assembly, bearing pre-load must be checked.  Carry out steps 15 thru 26 to check
idler gear bearing pre-load.
(15)
Lubricate the idler gear bearings using engine oil (item 17, Appendix B) prior to pre-load testing.
(16)
Attach the two 3/4 in.  bearing test fixture plates (11, Appendix D) to the Idler gear hub using a 1/2 in - 13 bolt,
washers and nut.  Tighten the nut to 90 ft lb (122 Nm).
(17)
Attach the 3/8 in.   bearing  test  fixture  plate
(11, Appendix D) to idler gear hub using 3/8
in.  - 16 capscrews.  Tighten the capscrews
to 40 ft lb (54 Nm).
(18)
Clamp the idler gear assembly and fixture in
a vise.
(19)
Tie  one  end  of  a  piece  of  lintless  1/8  in.
cord around a 1/8 in.  round piece of wood.
Place  the  wood  between  two  of  the  gear
teeth and rap the cord around the periphery
of the gear several times.  Attach the other
end of the cord to a spring scale J8129.
(20)
Maintain a straight steady pull  on  the  cord
and  scale,  90  deg.    to  the  axis  of  the  hub,
and  note  the  pull,  in  pounds  and  ounces,
required   to   start   the   gear   rotating,   Make
several     checks     to     obtain     an     average
reading.
(21)
If the pull is within 1/2 lb minimum to 4 lbs maximum, and does not fluctuate more than 2 lb 11 oz., the idler
gear and bearing assembly is satisfactory for use.  If the scale reading is within the 1/2 to 4 lb specified, but
fluctuates  more  than  2  lb  11  ounces,  the  idler  gear  and  bearing  assembly  must  NOT  be  installed  on  the
engine.
(22)
Fluctuations  in  scale  reading  may  be  caused  by  the  cones  not  being  concentric  to  each  other,  damaged
cones  or  rollers,  or  dirt  or  foreign  material  within  the  bearings.    In  these  cases,  the  bearing  should  be
inspected for the cause of fluctuation in the scale readings and corrected or a new bearing installed.
(23)
A  scale  reading  which  exceeds  the  specified  maximum  indicates  binding  of  the  bearing  rollers,  or  rollers
improperly installed.
(24)
When the scale reading is less than the specified minimum, the bearing is more likely worn and the bearing
should be replaced.
(25)
After the pre-load check is completed, remove the bearing test fixture plates (11, Appendix D) from the idler
gear assembly.
(26)
Attach the bearing retainer (2) to the Idler gear (3) using new capscrews (1).  Tighten the capscrews to 29 ft
lb (39 Nm).
(27)
Attach the idler gear assembly as detailed in the INSTALLATION section preceding.
3-153