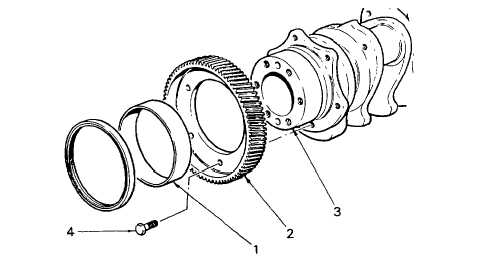 TM 5-4210-220-34
3-8.
ENGINE - Continued
c.
Crankshaft Gear Installation
(1)
To  make  crankshaft  gear  timing  and  installation  easier,  remove  the  idler  gear  assembly  as  detailed  in
REMOVAL section.
(2)
Position  the  gear  (2)  on  the  rear  end  of  the  crankshaft  (3)  with  the  bolt  holes  in  the  gear  aligned  with  the
tapped holes in the crankshaft.  One bolt hole is off set so the gear can be attached in only one position.
(3)
Start  the  bolts  (4)  through  the  gear  (2)  and  into  the  crankshaft  (3).    Then  draw  the  gear  tight  against  the
shoulder of the crankshaft.  Tighten the bolts to 39 ft lb (53 Nm).
(4)
Install the idler gear assembly as detailed in b.  Idler Gear Installation preceding.
NOTE
On 6V-92 engines an oil seal sleeve may be pressed on the rear end of the crankshaft to provide a replaceable wear
surface for the rear oil seal contact area.
(5)
Install the oil seal sleeve (1) as detailed in following text if necessary.
(a)
Stone the high spots from the oil seal contact surface of the crankshaft (3) and wipe clean.
(b)
Coat the area of the crankshaft where the sleeve will be positioned with shellac or equivalent sealant.
(c)
Press the sleeve on the shaft using oil seal sleeve installer J21983, handle J8092 and guide studs
J25002.
(d) Wipe off any excess sealer.
(6)
Make sure to install the proper oversize seal into the flywheel housing see para.  3-8.6
d.
Camshaft Gear Installation
(1)
For camshaft gear installation, see para.  3-8.8.  Camshaft.
3-147