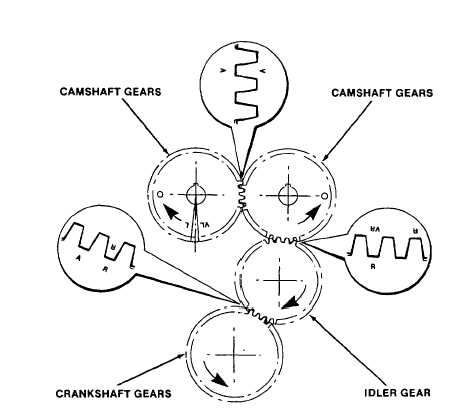 TM 5-4210-220-34
(3)
Examine  bearings  by  holding  the  inner  race  stationary,  and  slowly  spinning  the  outer  race  by  hand  If  the
bearing is worn or does not roll freely, replace the bearing.
(4)
If gear assembly is damaged, refer to REPAIR section following for detailed repair procedures.
INSTALLATION
NOTE
The two camshaft gears mesh with each other and run at the same speed as the crankshaft gear.  Since the
camshaft gears must be in time with each other, and the two as a unit in time with the crankshaft gear, timing
marks have been stamped on the face of the gears to facilitate correct gear train timing.  The symbol system
of marking the gears makes gear train timing a comparatively easy operation.
Using  the  following  illustration,  line  up  the  appropriate  symbols  on  the  gears  as  each  gear  assembly  is  installed  on  the
engine.    There  is  not  advance  timing  (A)  on  the  V-92  engine  group.    After  installation,  check  the  backlash  between  the
various mating gears.
New Gear Backlash 0.002 - 0.008 in.  (0.051 - 0.203 mm)
Worn Gear Backlash 0.010 In.  Maximum (0.254 mm  maximum).
If  the  engine  was  completely  disassembled,  it  is  easier  to  install  the  crankshaft  gear  first.    Then  working  from  the
crankshaft gear to the idler gear and to the camshaft gears, line up the appropriate symbols to time the gear train.
3-145