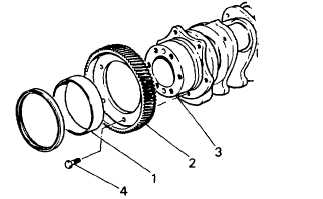 TM 5-4210-220-34
3-8.
ENGINE - Continued
3-8.7
Gear Train - Continued
c.
Crankshaft Gear Removal
(1)
Remove the crankshaft rear oil sleeve (1), if
used.      To   remove   the   sleeve,   peen   the
outside  diameter    of    the    sleeve    until    It
stretches sufficiently so it can be slipped off
the crankshaft (3).
(2)
Remove the bolts (4) which secure the gear
(2) to the crankshaft (3)
(3)
Provide a base for the gear puller by placing
a steel plate across the cavity in the end of
the crankshaft (3).
(4)
Remove   the   crankshaft   gear   (2)   using   a
gear    puller.        Follow    tool    manufacturers
safety rules when pullers are used.
(5)
Examine the gear teeth for scoring, pitting or wear.  If severely damaged or worn, install a new gear.  Make
sure to carefully examine the other gears in the gear train.
d.
Camshaft Gear Removal
(1)
For camshaft gear removal, see para.  3-8.8 Camshafts.
INSPECTION
NOTE
This procedure may be used for any gear in the engine gear train.
WARNING
Dry cleaning solvent P-D-680 (safety or Stoddard's solvent) is potentially dangerous.  Avoid repeated and prolonged
breathing of vapors and skin contact with the liquid.  Do not use near open flame, arcing equipment or other ignition
sources.  Always wear eye protection and protective clothing.  The flash point of P-D-680 is 100 to 138 deg.  F (30 to
59 deg.  C).
Death or serious injury could occur if compressed air is directed against the skin.  Do not use compressed air for
cleaning  or  drying  unless  the  pressure  is/has  been  reduced  to  30  psi  (2.11  kg/cm2)  or  less.    When  working  with
compressed air always use chip guards, eye protection, and other personal protective equipment.
(1)
Clean all of the parts with dry cleaning solvent (item 10, Appendix 8) and dry them with compressed air.
(2)
Examine the gears for chipped, pitted, burred or worn gear teeth.  Replace gears as necessary.
3-144