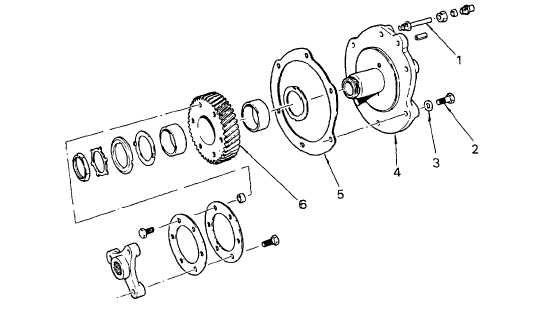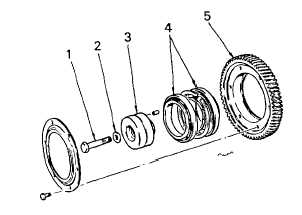 TM 5-4210-220-34
3-8.
ENGINE - Continued
(6)
While holding the support (4), rotate the gear (6) by hand If gear does not rotate freely or there is excessive
bushing-to-support clearance repair the blower drive gear as detailed in the REPAIR section following
b.
Idler Gear Removal
(1)
Before  removing  the  idler  gear  assembly,
check   the   Idler   gear,   hub,   and   bearing
assembly    for    any    noticeable    wobble    or
shake.    Apply  pressure  by  firmly  grasping
the  rim  of  the  gear  with  both  hands,  then
rock the gear in relation to the bearing.  The
bearings    must    be    replaced    if    the    gear
wobbles  or  shakes.    If  the  gear  assembly
has  no  noticeable  play  It  is  only  necessary
to check the pre-load before reinstallation.
(2)
Remove the bolt (1) and special washer (2)
that  secure  the  idler  gear  hub   (3)   to   the
cylinder block.
(3)
Carefully   remove   the   idler   gear   assembly
from the cylinder block end plate.
(4)
While   supporting   the   hub   (3),   rotate   the
gear   (5)   by   hand.      If   the   gear   does   not
rotate freely, or there is damage as detailed
In  step  1  preceding,  replace  the  bearings
(4) as detailed in REPAIR section following.
3-143