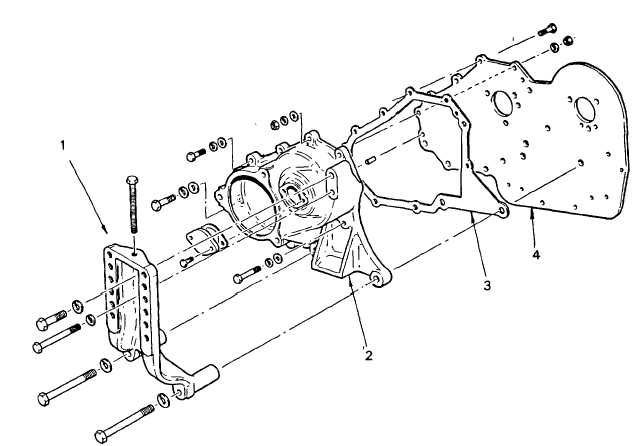 TM 5-4210-220-34
3-8.
ENGINE Continued
d.
Balance Weight Cover Installation
(1)
Affix a new gasket (3) to the balance weight cover (2).
(2)
Install the balance weight cover (2) on the front end plate (4) and cylinder block. Secure with the capscrews,
nuts,  lockwashers  and  washers.  Using  the  sketch  made  during  removal,  ensure  all  fasteners  are  In  the
correct location. Tighten 3/8 in.-16 fasteners to 35 ft lb (47 Nm); tighten 3/8 in. -24 fasteners to 39 ft lb (53
Nm); tighten 1/2 in. -13 fasteners to 75 ft lb (102 Nm); tighten 5/8 in. -11 fasteners to 147 ft lb (200 Nm).
(3)
Attach fan support (1) to the balance weight cover (2) using the proper fasteners in the correct location. Refer
to step 2 preceding for torque values.
(4)
Install water pump, see para. 2-19.9 if removed.
(5)
Install fan and fan clutch, see TM 5-4210-220-12.
(6)
Install oil pan as detailed in para. 2-19.11 and fill engine with oil as detailed in LO 5-4210-220-12.
(7)
Fill engine cooling system with antifreeze solution, see LO 5-4210-220-12 if required.
(8)
Start engine and run until it reaches operating temperature. Check for coolant or oil leaks.  Repair or tighten
connections as necessary.
3-135