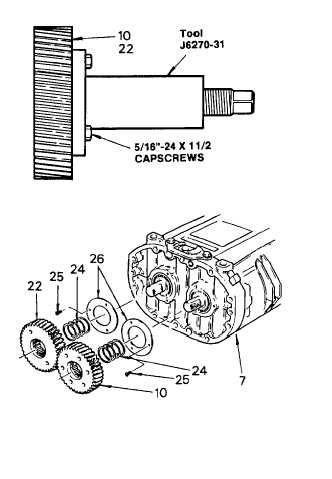 TM 5-4210-220-34
3-8.
ENGINE - Continued
(7)
Pull the governor and fuel pump assembly from the dowels in the blower end plate.
(8)
Remove capscrews (17) and washers (18), then remove the fuel pump (19), drive coupling fork (21), and the
fuel pump gasket (20). Discard gasket.
NOTE
To disassemble the blower carry out steps 9 thru 18.
Any component is given the same item number on all illustrations following for this procedure including the
exploded view.
(9)
Place a clean folded cloth between the rotors and remove the locking bolts (20) and thick washers (21) that
secure the timing gears (10 and 22) to the blower rotor shafts.
(10)   Remove  the  timing  gears with puller tool
J6270-31. Both gears must be pulled at the
same  time.  Back  out  the  center  screws  of
both  pullers  and  place  the  flanges  against
the gear faces, alining the flange holes with
the  tapped  holes  in  the  gears.  Secure  the
pullers to the gears with 5/16 in. 24 x 1 -1 /2
in.  capscrews  (two  capscrews  on  the  left
helix gear (22) and three capscrews on the
right helix gear (10)).
(11)   Turn     the     two     puller     screws     uniformly
clockwise  and  withdraw  the  gears  (10  and
22) from the rotor shafts.
(12)   Remove    the    shims    (24)    from    the    rotor
shafts,  after   the   gears   (10   and   22)   have
been    removed.        Note    the    number    and
thickness  of  shims  on  each  rotor  shaft  to
ensure
identical
replacement
when
reassembling the blower.
(13)   Remove     the     self     locking     screws     (25)
securing   the   rotor   shaft   bearing   retainers
(26)  to  the  rear  end  plate  (7).  Remove  the
retainers.   Repeat   this   procedure   for   the
retainers on the front end plate.
(14)   To ease assembly procedures, locate the cast triangle on the blower housing and identify the adjacent end
plate similarly. Make sure the identification mark does not mark any sealing surface.
NOTE
To remove the blower rear end plate and ball bearing assembly from the blower housing and rotors, carry
out steps 15 thru 18.
3-111