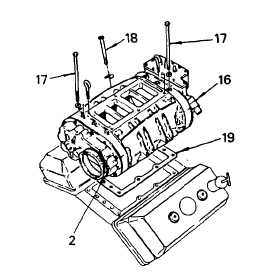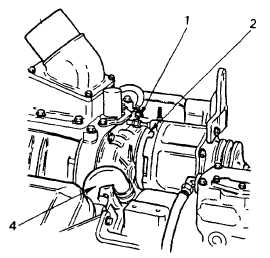 TM 5-4210-220-34
3-8.
ENGINE - Continued
3-8.3
Blower - Continued
NOTE
If the blower drive shaft spring has been removed in error, compress the spring and force it into the drilled
hole opposite the tachometer drive square hole.  This operation must be done on a press.  To check for
proper assembly, hold the spring and shaft assembly vertically by the spring.  Weight of the shaft cannot
allow the spring to come out of the drilled hole.  A simple installation tool can be made from a 0.500 in.
(12.7 mm) diameter piece of steel stock.
(8)
Remove  the  shaft  with  the  tool  and  rotate
the     lobes     of     the     blower     in     90     deg.
increments,   reinserting   the   alinement   tool
and repositioning the blower, as necessary.
Check the alinement at 90 deg.  increments
through the full 360 deg. of blower rotation.
(9)
If it is not possible to position the blower so
that the tool can be removed and reinstalled
without  drag  in  all  positions,  repeat  step  8.
However,     this     time     try     to     achieve     a
condition     in     which     the     shaft     can     be
removed   with   minimum   drag   in   the   two
worst positions.
(10)   With    the    shaft  in  place    and    the  blower
properly  alined,  tighten  the  blower-to-block
end  plate  capscrews  (17)  to  45  ft   lb   (61
Nm).    Tighten  the  blower  housing-to-block
side angle capscrews (18) uniformly to 35 ft
lb (47 Nm) in 5 ft lb (7 Nm) increments.
(11)   Recheck the torque of the blower-to-block end plate capscrews (17) and tighten as necessary.
(12)   Install the blower driveshaft snap ring.  The notch in the tool provides sufficient clearance for the installation
of the snap ring with needle-nose pliers.  Installing the snap ring with the alinement tool in place will prevent it
from being inadvertently dropped into the engine gear train.
(13)   Remove the alinement tool from the blower
drive shaft.
(14)   Place the blower rear end plate cover clamp
(2)  and  seal  ring  in  position.    Tighten  the
clamp nut on the bolt until the spring in the
clamp is completely compressed.
(15)   Connect breather pipe (4) to cylinder block.
(16)   Connect the lubricating oil tube to the fitting
in    the    blower    drive    support.        Tighten
lubrication fitting (1) firmly.
(17)   Install    the    alternator    drive    assembly    as
detailed in para.  2-19.2.
3-108
TM 5-4210-220-34