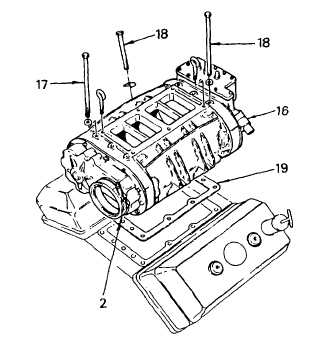 TM 5-4210-220-34
3-8.
ENGINE - Continued
INSTALLATION
NOTE
If  a  new  blower  assembly  is  being  installed,  assemble  the  end  plate  cover  (see  REPAIR  following),
governor, see para. 2-19.13 and fuel pump (TM 5-4210-220-12) prior to installation.
(1)
Remove  all  covers  installed  to  prevent  contamination  from  entering  the  cylinder  block.    Affix  a  new
blower housing gasket (19) to the cylinder block with petroleum  jelly  (item  21,  Appendix  B)  to  prevent
the gasket from shifting when the blower is lowered into position.
(2)
Install and clamp fuel rod cover tube hoses loosely to each side of the governor housing (16).
(3)
Install the cover seal ring and clamp (2) to the end of the blower drive support on the engine.
(4)
Thread eye bolts in diagonally opposite tapped holes in the top of the blower housing.
WARNING
Serious  injury  could  occur  if  heavy  equipment  is
moved/lifted  without  sufficient  personnel  to  do  the
job .  Use proper physical lifting procedures or use
a   suitable   lifting   device   or   dolly.      Wear   safety
shoes,     gloves,     and     other     suitable     protective
clothing.
(5)
Attach a chain hoist to the eye bolts.  Lift
the  blower  assembly  at  a  slight  angle,
and  lower  it  into  position  on  top  of  the
cylinder block.   Make  sure  the  flange  of
the  rear  end  plate  cover  mates  with  the
seal  ring.    Completely  lower  the  blower
assembly onto the cylinder block.
(6)
Install  the  7/16  in.  14  x  8-1/4  in.  blower
end   plate   capscrews   (17)   and   special
washers.  Install the 3/8 in. 16 x 5-1/2 in.
capscrews   (18)   and   retaining   washers
on each side of the blower housing.  Do
not tighten.
NOTE
The lip on the bevelled end of the retaining washer
goes in the small recess in the blower housing just
above the bolt slot.
(7)
Slip the snap ring over the notched end of the alinement tool J33001 and thread the blower drive shaft
onto the end of the tool.  Install the shaft into the rear of blower and position the blower so that the shaft
can be removed and reinstalled without drag.
3-107