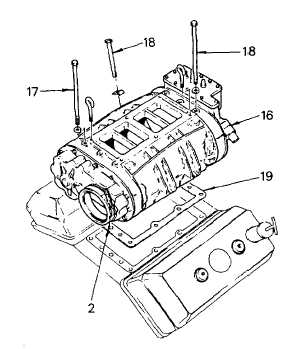 TM 5-4210-220-34
3-8.
ENGINE - Continued
3-8.3
Blower - Continued
(18)   Thread eye bolts in diagonally opposite tapped holes in the top of the blower housing.
WARNING
Serious   injury   could   occur   if   heavy   equipment   is
moved/lifted   without   sufficient   personnel   to   do   the
job.   Use  proper  physical  lifting  procedures  or  use  a
suitable  lifting  device  or  dolly.    Wear  safety  shoes,
gloves, and other suitable protective clothing.
(19)   Attach a chain hoist to the eye bolts.    Lift  the
blower   up   slightly   and   move   it   forward   to
detach  the  blower  from  the  seal  at  the  drive
end.    Then,  lift  the  blower  up  and  away  from
the engine.
(20)   Remove and discard the blower gasket (19).
(21)   With   the   blower,   fuel   pump   and   governor
assembly  removed  the  engine,  cover  the  air
inlet and outlet openings of the blower housing
and install the governor cover.
WARNING
Dry cleaning solvent P-D-680 (safety or Stoddard's solvent) is potentially dangerous.  Avoid repeated and
prolonged  breathing  of  vapors  and  skin  contact  with  the  liquid.    Do  not  use  near  open  flame,  arcing
equipment or other ignition sources.  Always wear eye protection and protective clothing.  The flash point
of P-D-680 is 100 to 138 deg. F (30 to 59 deg. C).
(22)   Wash the exterior of the blower and governor assembly using dry cleaning solvent (item 10, Appendix B).
WARNING
Death or serious injury could occur If compressed air is directed against the skin. Do not use compressed
air for cleaning or drying unless the pressure is/has been reduced to 30 psi (2.11 kg/cm2} or less.  When
working   with   compressed   air   always   use   chip   guards,   eye   protection   and   other   personal   protective
equipment.
(23)   Dry the exterior of the blower and governor using compressed air.
(24)   If  blower  is  to  be  replaced,  remove  end  plate  cover,  governor,  and  fuel  pump  as  detailed  in  REPAIR
following.
3-106