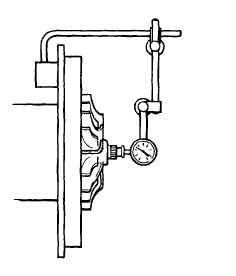 TM 5-4210-220-34
3-8.
ENGINE - Continued
3-8.2
Turbocharger - Continued
(29)  Install  piston  rings  (17)  on  thrust  spacer  (16).    Gently  Insert  spacer  into  backplate  assembly.    Do  not
force piston rings into place .
(30)  Fasten  thrust  washer  (19)  flat  against  center  housing  with  the  hole  and  cutout  in  thrust  washer  In
alinement with pins (5) in center housing.
(31)  Install thrust collar (18) against thrust washer.  Lubricate with clean engine oil (item 17, Appendix B).
(32)  Install new seal ring (15) in groove at compressor end of the center housing.
(33)  Aline oil feed hole in center housing and backplate assembly.  Attach bsckplate to center housing with
four  locking  tabs  (13)  and  bolts  (12).    Tighten  to  8  ft  lb  (11  Nm).    Bend  up  corners  of  locking  tabs  to
secure bolt heads.
(34)  Install new turbine piston rings (11) on wheel shaft assembly.  Lubricate seal ring with clean engine oil
(item 17, Appendix B).
(35)  Position wheel shroud (10) against center housing (3) Insert wheel shaft assembly through wheel shroud
and into center housing.  Be careful not to scuff or scratch bearings when installing shaft assembly.
(36)  Place  turbine  wheel  shaft  assembly,  shroud,  center  housing,  and  backplate  as  assembled  upright  in
holding fixture or suitable socket clamped in vise.  Place the extended hub of shaft into socket.
(37)  Position compressor wheel over shaft.
(38)  Lightly lubricate shaft threads and mounting area of wheel with clean engine oil (item 17, Appendix B).
Install compressor wheel and retaining nut.  Tighten to 145 in. lb (16 Nm).
(39)  Loosen  nut  and  inspect  nut  face  and  front  face  of  compressor  wheel.    Be  sure  they  are  clean  and
smooth.
(40)  Retighten nut to 50 in. lb (5 Nm).  Continue to tighten nut for an additional 1/4 turn.
(41)  Clamp  center  housing  assembly  in  vise  with
soft  jaws.    Fasten  dial  indicator  J8001-3  and
base  J7872-2  to  center  housing.    Position  so
indicator  tip  rests  on  end  of  rotating  shaft  on
compressor side.  Move shaft axially back and
forth  by  hand.    Total  thrust  float  should  be
0.003    0.010    in.    (0.08    0.25    mm).        If    dial
indicator   reading   is   not   within   specification,
replace   center   housing   as   an   assembly   or
replace parts to correct problem.
To  prevent  damage  to  turbine  components  do  not  pull
misalined   turbine   housing   into   alinement   with   the   'V'
band coupling.
3-100