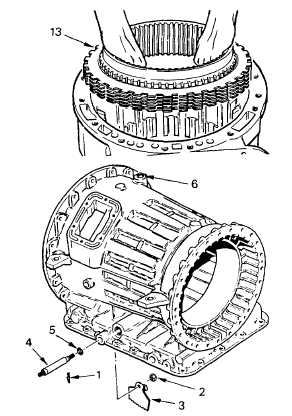 TM 5-4210-220-34
3-7.
TRANSMISSION-Continued
(48)
Place piston in the piston cavity of housing.  Be sure it is firmly bottomed in the cavity.
(49)
Install  twenty-eight  springs  into  their  recesses  in  the  piston.    Install  retainer,  so  the  offset  tangs  are
upward, onto the piston and springs.  Aline the holes in the tangs with the bosses on the piston.
CAUTION
Failure to install the retainer rings properly can result in transmission damage or malfunction.  If installed
too  far  onto  the  risers,  proper  clutch  clearance  cannot  be  obtained.    If  not  installed  far  enough,  the
retainers may fall off.
(50)
Using  installer  J24453,  install  four  retainer  rings.    Press  each  ring  into  place  until  the  adjacent  retainer
tang bottoms in the counterbore of the adapter housing.
(51)
When all four retainer rings are properly installed, remove the piston assembly from the adapter housing.
(52)
Lubricate seal rings with transmission fluid (item 9, Appendix B).  Install the seal rings, with the lip of each
seal ring facing rearward, away from the spring side of the piston.
(53)
Install the piston assembly into the adapter housing, being very careful to avoid folding the seal lips back
upon  themselves.    If  any  difficulty  is  encountered,  remove  the  piston,  and  check  the  seals  and  housing
bore before again attempting installation.
(54)
Grasp the ring gear (13) internally and lift upward, removing the ring gear and ten clutch plates from the
transmission housing.
(55)
Remove     the     three     remaining     clutch
plates.
(56)
Remove retaining pin (1) and locknut (2)
to remove detent lever (3).  Remove any
burred   or   rough   areas   from   shaft   (4)
before  removal  to  avoid  scratching  the
housing bore.
(57)
Hold    the    detent    lever    in    one    hand,
remove the manual shaft (4) by carefully
pulling  it  through  the  oil  seal  (5)  in  the
housing.  Remove the detent lever.
(58)
Remove  manual  shift  shaft  oil  seal  (5)
using seal remover J26401.
(59)
If
replacement
of
breather
(6)
is
necessary, remove it from the housing.
3-67