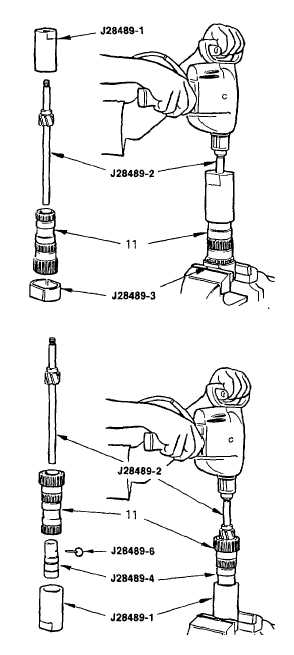 TM 5-4210-220-34
3-7.
TRANSMISSION-Continued
(17)
Using   tool   J28489,   clamp   the   holding
fixture   in   a   vise.      Place   the   sun   gear
shaft   assembly   in   the   holding   fixture,
and   put   the   reamer   and   pilot   tool   in
place.
When  machining  any  bushing,  keep  reamer  at
full  drill  speed  when  pulling  it  back  through  the
bushing.        If    reamer    is    not    rotating    during
retrieval,    it    could    damage    the    bushing    and
cutting tool.
(18)
Using a 1/2 in. electric drill, machine the
small  OD  shaft  bushing  (approximately
75   to   150   rpm)   while   adding   cutting
lubricant  (item  8,  Appendix  B)  through
the holes in the pilot tool.  If a proper drill
speed
cannot
be
obtained
with
a
standard    drill,    use    a    variable    speed
control to reduce its rpm.
(19)
To machine the large OD shaft bushing,
clamp the pilot tool in a vise.  Insert the
bushing  pilot  tool  J28489-4  into  the  sun
gear   shaft   (end   with   newly   machined
bushing)  and  fasten  them  together  with
the   locking   pin   J28489-6.      Using   the
same  electric  drill,  engage  the  shaft  of
the reamer in the pilot tool, and machine
the bushing.  Add cutting lubricant (item
8,
Appendix
B)
during
machining
operation.          Refer     to     the     preceding
caution when retrieving the reamer from
the bushing.
(20)
Check
ID
of
bushings
for
runout.
Runout must not exceed 0.002 in. (0.05
mm)   total   indicator   reading.      Surface
finish   should   be   30   microinch   (0.762
micrometer).
(21)
Thoroughly    clean    shaft    of    chips    and
debris.
(22)
If orifice plug was removed from shaft, use installer J24369 to properly position replacement orifice plug
below chamfer in shaft.
y.
Planetary Carrier Assemblies Inspection And Repair
NOTE
The  disassembly  and  assembly  procedures  for  all  planetary  carrier  assemblies  differ  only  in  the  proper
tool selection for the specific application and identifies the carrier involved (front, center, rear, low).
3-52