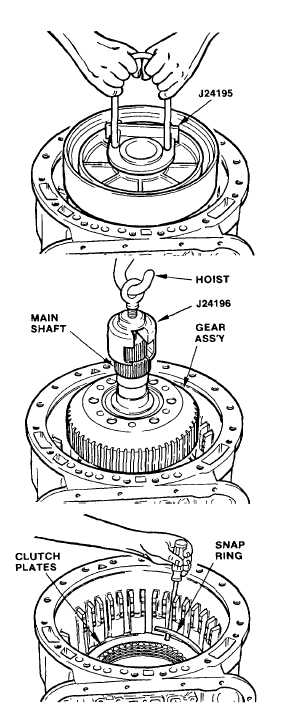 TM 5-4210-220-34
3-7.
TRANSMISSION-Continued
(3)
Install center support lifting  bracket  J24195
into  the  recess  between  the  seal  rings  on
the center support hub.
(4)
Lift  carefully,  straight  upward,  on  the  lifting
bracket    to    remove    the    center    support
assembly.    If  the  thrust  washer  adheres  to
the rear of the support, remove it.
(5)
Attach   lifting   bracket   J24196   to   the   main
shaft of the gear unit assembly.
(6)
Attach  a  hoist  to  the  lifting  bracket  eyebolt
and     remove     the     gear     unit     and     shaft
assembly from the transmission housing.  If
needle  bearing  and  races  adhere  to  gear
unit inner side, remove them.
(7)
Remove  the  snap  ring  that  retains  second-
clutch plates.
(8)
Remove  13  second-clutch  plates,  of  which
seven    are    external-tanged    and    six    are
internal-splined plates.
NOTE
Tie    the    second-clutch    plates    together,    and
identify the pack.  Retain for inspection.
3-47