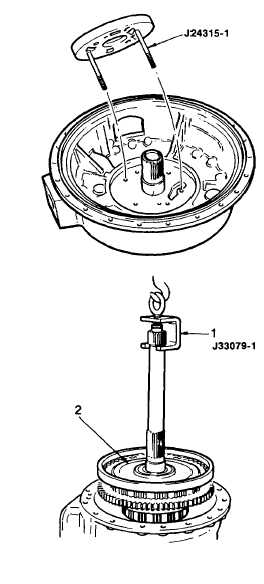 TM 5-4210-220-34
3-7.
TRANSMISSION - Continued
(16)  Install spring (15) into the converter regulator valve bore.  Install converter bypass valve (14) and valve seat
(13).
(17)  Install support assembly (11) and snap ring (12) into the valve bore.
(18)  Place converter housing on the work table, front side downward.
(19)  Place  front  support  gasket  (8)  onto  the  converter  housing.    Aline  holes  in  the  gasket  with  those  in  the
converter housing.
(20)  Install front support assembly onto converter housing.
(21)  Install all bolts (16) of proper ;ength in respective holes.  Torque bolts to 40 ft lb (52 Nm).
(22)  Install two 3/8-16 X 6 in.  guide screws J24315-1 into pump as shown.
(23)  While holding oil pump in position, install six
bolts.  Remove guide pins last.  Tighten all
bolts to 43 ft lb (58 Nm).
(24)  Lubricate both race and thrust bearings with
petroleum jelly (item 21, Appendix B).
(25)  Install bearing race (22) flat side down onto
the front support hub.  Install roller bearing
(23) onto the race.
(26)  Install both seal rings (24) on support hub.
a.
Removal Forward, Fourth, And Third Clutches
(1)
install    lifter    tool    J33079-1    (1)    onto    the
forward  clutch  turbine   shaft.      Lift   out   the
forward  clutch  and  turbine  shaft  assembly
(2).
Do not let weight rest on the governor oil
collector.
(2)     During     removal     of     the     forward     clutch
assembly,      do   not   lose   bearing   races   or
needle    bearing,    if    they    adhere    to    the
forward clutch hub.
(3)     Place the hooked legs of lifting tool J24209
under the edges of the fourth clutch  spring
retainer (3) and remove the fourth clutch.
3-37