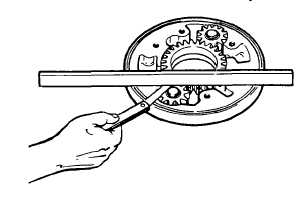 TM 5-4210-220-34
3-7.
TRANSMISSION - Continued
(20)  Place a straight edge across the surface of
the    pump    body    and    gears.        Insert    a
thickness gage between each gear and the
straight  edge.    If  any  gear  end  clearance
exceeds  0.006  in.    (0.15  mm),  replace  the
gear, or gears.
(21)  Install the cover, and retain it with the 1/4 20
X  5/8  in.      flat-head   screw   (12).      Tighten
screw to 11 ft lb (15 Nm).
(22)  Install  the  seal  ring  (15)  around  the  cover
outer circumference.
(23)  Lubricate the seal ring and oil pump cavity in the housing with petroleum jelly (item 2' Appendix B).
r.
Main Regulator Valve, Disassembly, Inspection And Repair
WARNING
The main pressure regulator valve spring is under approximately 85 Ibs (378 N) compression.
3-34