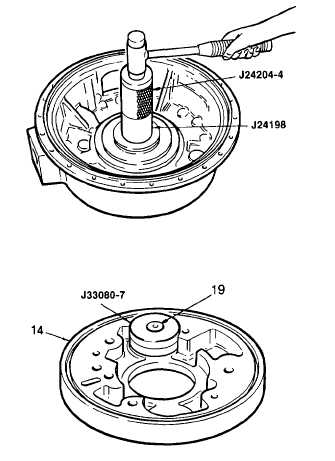 TM 5-4210-220-34
3-7.
TRANSMISSION - Continued
(10)  Remove each driven gear shaft (19) (pump spindle) from the pump body, if necessary, using special tool set
J33080.
(11)  Place puller assembly, puller bridge J33080-20 and collet J33080-4, over shaft to be removed with the legs of
the puller on the pump body.
(12)  Tighten the collar locknut until collar is secured against collet and onto the shaft that is to be removed.
(13)  Hold puller screw with wrench while tightening puller nut to remove shaft.
(14)  To  remove  the  shaft  from  collet,  back  off  the  collar  locknut  and  puller  nut.    Position  collar  over  retriever
J33080-2 and tap top of puller screw with a hammer to remove the shaft from the collet.
(15)  Install new oil seal using seal installer J24198 , and driver handle J24204-4.  Coat oil seal bore in pump body
with seal retainer (item 26, Appendix B).  The lip of the seal must face inward (toward rear of transmission).
Seal should be flush with front of the housing
NOTE
Installer  J24198  can  be  used  with   the
transmission  assembled  except  for  the
flywheel and torque converter.
(16)  To  install a  new  driven  gear shaft (pump
spindle)
support
the
charging
pump
housing   (14)   in   a   press   Position   height
gage   J33080-7   over   the   shaft   bore   and
place  new  shaft  (19)  into  the  gage  so  the
chamfer  on  the  shaft  will  engage  into  the
housing bore.
(17)  Press the shaft until flush with height gage.
The   installed   height   of   the   spindle   after
installation   should   be   0.926    -    0.885    in.
(23.52 - 22.48 mm).
(18)  If  needle  bearing  was  removed  from  either
driven  gear,  install  a  new  bearing.    Place
the    bearing,    numbered    end    first,    onto
installer    tool    J28646A.        Attach    handle
J8092.  Install the bearing into driven gear.
(19)  Install the driven gears (17) and the drive
gear
(20)  into the oil pump body (14).
3-33