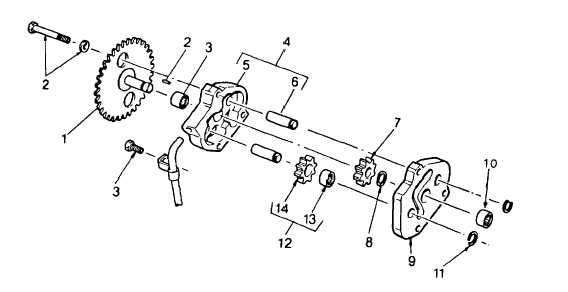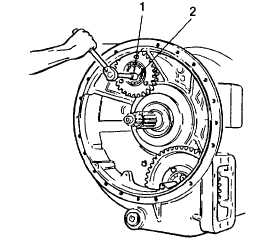 TM 5-4210-220-34
3-7.
TRANSMISSION - Continued
Press only on numbered end of bearing when Installing needle bearings.
(1 5) If needle bearing (3) was removed, press a new bearing to 0.04 in.  (1.0 mm) below the outside surface of
body (5).
(16)  If  bearing  (10)  was  removed,  press  a  new  bearing  flush  with,  to  0.010  in.    (0.25  mm)  below  the  outside
surface of plate (9).
(17)  Install  pump  drive  gear  (1)  into  body  (5)  and  install  lock  roller(15)  into  Its  groove  in  the  shaft  of  gear  (1).
Install  internal  drive  gear  (7)  onto  the  shaft  of  gear  (1),  alining  the  lock  roller  with  the  groove  in  the  gear.
Secure the gear with snap ring (8).
(18)  Install plate (9) onto body (5).  Install snap rings (11) onto spindles (6).
(19)  Pump assembly is ready for installation.
j.
PTO Top And Side Drive Gear Removal And
Repair
(1) Remove the bolt (1) that retains the top PTO
idler gear spindle (2).
(2) Use slide hammer J24171-4 (3) and adapter
J24171-2  to  remove  the  -spindle  and  top
gear assembly (4).  Press the spindle from
the    bearing.        If    the    gear    is    damaged,
replace the gear assembly.
3-20