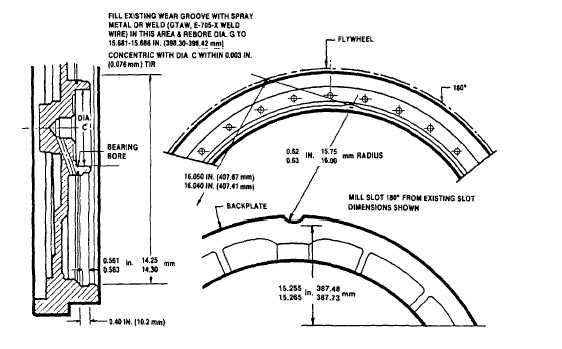 TM 5-4210-220-34
3-7.
TRANSMISSION - Continued
c.
Flywheel Seal Ring Surface Rework.
(1)
Rework  the  bore  and  install  a  sleeve  (P/N
6881519) as shown.
(2)
Cool  the  sleeve  in  dry  ice  for  at  least  thirty
minutes before installing.  Proper alinement
during  installation  is  necessary  to  prevent
damaging the bore and sleeve.
(3)
Press  the  sleeve  flush  with  surface  X.    Be
sure the internal chamfer is toward the rear
side of the flywheel.
Error! Not a valid filename.
NOTE
Do not attempt this rework procedure unless adequate machining capabilities are available.
(4)
Maximum allowable step wear in the lockup backplate bore of the flywheel is 0.030 in.  (0.76 mm).
(5)
If the step wear is less than 0, 030 in.  (0.76 mm), refer to the addition of second locking key machining
instructions.
(6)
If  the  step  wear  is  greater  than  the  maximum  allowable  wear,  refer  to  welding  (or  spray  metaling)  and
machining instructions.
(7)
All new configuration flywheels have two locking keys.
3-12