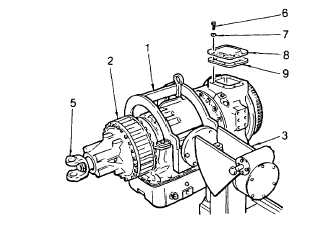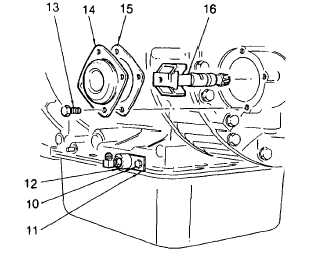 TM 5-4210-220-34
3-7.
TRANSMISSION - Continued
OVERHAUL
a.
Mounting Transmission To Overhaul Stand.
(1)
Before installing the lifting bracket J24310
(1),  onto the transmission (2), remove any
bolts which cannot be removed due to
obstruction by the bracket.
(2)
With transmission securely attached to
mounting bracket J24310, install
transmission and bracket to overhaul stand
(3).
(3)
Check the number of notches that have
been cut into the wrenching flats of the
yoke retaining nut (4).  If there are five
notches, remove the nut and throw it away.
(4)
If  there  are  less  than  five  notches,  or  none  at  all,    remove  all  dirt  and  any  burrs  from  the  exposed  shaft
threads.  Then, loosen the yoke nut until there is approximately 1/16-in.  (1.6 mm) gap between the nut and
yoke (5).
(5)
Check the running torque while removing
the nut.  The nut can be reused only if it
meets the following requirements: -The first
time (no notches) the nut is removed the
running torque must be at least 400 in.  lb
(45 Nm).  -Each additional time (one to four
notches) the nut is removed the running
torque must be at least 300 in.  lb (34 Nm).
(6)
Each time the nut is removed, deeply scribe
one of the wrenching flats.  This method of
marking the nut will indicate how many
times the nut has been reused.
(7)
Remove the output yoke (5) using a
suitable puller.
(8)
Remove eight bolts (6), washers (7), top cover (8) and gasket (9) from converter housing.
(9)
Remove bolt (10) that retains the modulator retainer (11) and remove retainer and modulator valve (12).  (10)
Remove four bolts (13) that retain the governor cover (14) and gasket (15).  Remove the cover and gasket.
Remove the governor (16) by rotating it clockwise while removing.
b.
Disassembly And Inspection Of Flywheel Assembly, Torque Converter And Lockup Clutch Assemblies
(1)
Position the transmission horizontally.
3-9