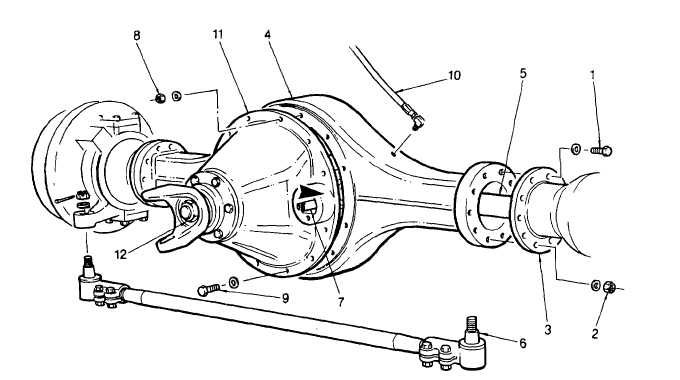 TM 5-4210-220-34
2-21.
FRONT AXLE - Continued
2-21.2    Differential Carrier.
This task covers
a.
Removal
b.
Installation
c.
Repair
d.
Adjustment
TOOLS
Wheels Blocked
Shop Equipment, Automotive
Front Heat Shield Removed
Maintenance and Repair,
(see TM 5-4210-220-12)
NSN 4910-00-754-0705
Front Axle Drive Line Removed
(see TM 5-4210-220-12)
EQUIPMENT CONDITION
Air Tanks Drained
Main Engine Shutdown
Axle Drained of Oil (see LO 5-4210-220-12)
(see TM 5-4210-220-12)
APU Engine Shutdown
MATERIALS/PARTS
(see TM 5-4210-220-12)
28, Appendix B Silicone Sealant
Batteries Disconnected (see TM 5-4210-220-12)
NOTE
The differential carrier can be removed and installed as a unit; however, the differential carrier can only be
repaired by replacing individual components making up the unit.
To  facilitate  replacement  or  major  repair,  the  differential  carrier  should  be  removed  from  the  axle  and
placed  on  a  workbench/stand.    Minor  repairs  such  as  replacement  of  input  shaft  oil  seal  or  drive  shaft
yoke can be carried out with the carrier installed on the axle.
2-286