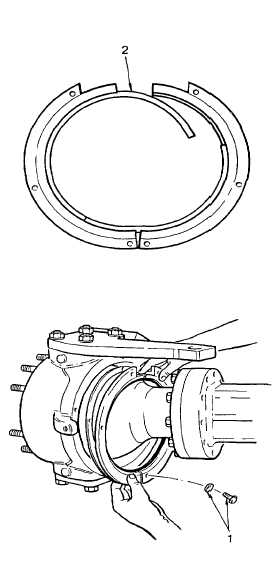 TM 5-4210-220-34
2-21.
FRONT AXLE - Continued
(11)  Check bearing preload using a spring scale,
calibrated   in   lbs   or   N   (100   lb   or   500   N
capacity),  as shown.  A preload of 38 - 42
lb or 170 - 185 N should be measured after
ball socket starts moving.
(12)  Add  or  delete  shims  if  bearing    preload    is
different    from    specified    range.        Repeat
steps   11   and   12   until   correct   preload   is
achieved.
NOTE
It is recommended that at least one shim
be   installed   in   both   upper   and   lower
positions.    In  some  instances,    it  might
be  necessary  to   grind   or   machine   the
ball   socket   cover   surfaces   to   achieve
this.
(13)  With ball adjusted as required, fill the cavity
between  ball  and  socket  with  grease  (item
16,  Appendix B).
(14)  Preassemble  ball  seals  and  seal  retainers
(2).      Use   a   vise   to   hold   retainer   halves
together   in   a   circle   while   installing   seals.
Be  sure  gaps  between  seals  and  between
retainers  do  not  coincide  (see  illustration).
Trim  or  cut  off  excess  seal  material  at  a
slight  angle  to  ensure  that  the  seal  ends
join together.
(15)  Install seals and retainers on ball socket as
shown.      Insert   retainer   gaskets   between
retainer  halves.    Tighten  retainers   to   ball
socket using capscrews and lockwasher(1).
Tighten capscrews to 170 ft lb (230 Nm).
(16)  Coat  exposed  area  of  axle  ball  with  a  thin
film    of    grease    (item    16,    Appendix    B).
Adjust steering stops, if necessary, see TM
5-4210-520-12.
2-285