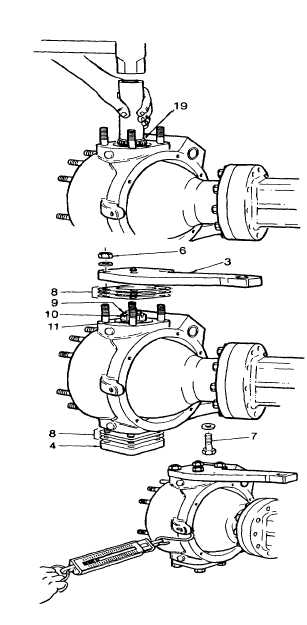 TM 5-4210-220-34
2-21.
FRONT AXLE - Continued
2-21.1    Ball Socket Assembly - Continued
NOTE
Upper kingpin bearing has a smaller diameter bearing cone and a thicker wall bearing cup compared to
lower kingpin bearing.
(5)
Install    upper    and    lower    kingpin    bearing
cones    (20    and    19).        Be    sure    correct
bearings   are   used   with   upper   and   lower
pins.      Drive   each   bearing   cone   in   place
using   a   suitable   arbor   and   hammer.      Be
sure sleeve only contacts bearing race and
not roller cage.
(6)
If  removed,  install  upper  and  lower  bearing
cups  using  a  suitable  arbor  and  hammer.
Tap bearing cups into ball socket until flush
with the kingpin cover surfaces.
(7)
Install washer (11) and nut (10) on kingpins
(12 and 13).  Tighten nuts to 500 ft lb (680
Nm).  If needed, tighten nuts further to line
up   holes   in   kingpins   with   slots   in   nuts.
Install and secure cotter pins (9).
NOTE
Shims 0.003, 0.005, and 0.020 in.  (0.08,
0.13,   and   0.51   mm)   in   thickness,   are
used   between   kingpin   covers   and   ball
socket.
If
new
components
are
assembled,   a   shim   pack   of   0.045   in.
(1.14  mm)  should  be  used  under  each
kingpin   cover.      If   existing   components
are    reassembled,    use    either    original
shim packs or new shim packs equal to
the original packs in thickness.
(8)
Install   kingpin   covers   (3   and   4)   together
with   shims   packs   (8).      Make   sure   ball
socket   is   centered   on   axle   ball   by   using
shim packs of same thickness.  If different,
exchange  shims  between  packs  until  even
thickness  is  achieved.    Tighten  cover  nuts
(6) to 360 ft lb (490 Nm) and capscrews (7)
to 220 ft lb (300 Nm).
(9)
Lubricate upper and lower kingpin bearings
with
grease
(item
16,
Appendix
B).
Lubricate until  grease  can  be  seen  coming
out of bearing cones.
(10)  Remove
kingpin
spreading
fixture.
2-284