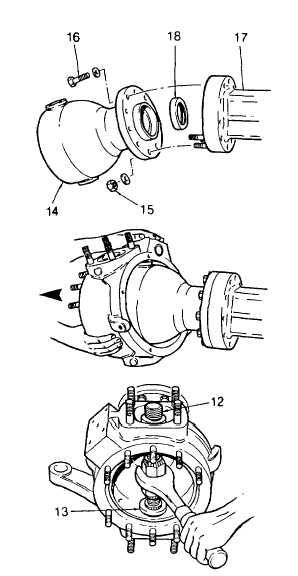 TM 5-4210-220-34
2-21.
FRONT AXLE - Continued
WARNING
Death or serious injury could occur if compressed air is directed against the skin.  Do not use compressed
air for cleaning or drying unless the pressure is/has been reduced to 30 psi (2.11 kg/cm2) or less.  When
working   with   compressed   air,   always   use   chip   guards   eye   protection   and   other   personal   protective
equipment.
(1)
Clean all components with dry cleaning solvent (item 10, Appendix B) blow dry using compressed air.
(2)
Inspect ball for deep grooves or scratches.  Check clearance between ball bushing and journal area (on axle
shaft) that contacts bushing.  If clearance exceeds 0.015 in.  (0.38 mm), replace ball and bushing assembly.
(3)
Inspect kingpins for wear.  Replace if pins show signs of heavy or excessive wear.
(4)
Inspect kingpin bearings as detailed in para.  2-7.  Replace cone and cup as required.
INSTALLATION
(1)
Install  new  oil  seal  (18).    Be  sure  seal  is
positioned    so    its    open    side    faces    axle
housing when axle ball is installed on axle.
Push seal in place using a suitable arbor.
(2)
Place  axle  ball  on  axle  housing  studs  and
install
nuts
(15),
lockwashers,
and
capscrews  (16).  Tighten  nuts  to  360  ft  lb
(490 Nm) and tighten capscrews to 220 ft lb
(300 Nm).
(3)
Tip ball socket and install  it  on  axle  ball  as
shown.  Position socket on ball to maintain
correct
relationship
between
top
and
bottom of the ball and socket.
(4)
Install kingpins (12 and 13) using spreading
fixture to seat the pins as shown.  Be sure
fixture  is  tightened  sufficiently  to  keep  pins
in
place.
2-283