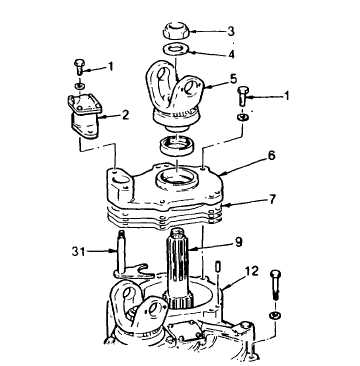 TM 5-4210-220-34
2-20.
REAR AXLE - Continued
2-20.1    Power Divider (Transfer) Unit - Continued
(13)  Be sure shim pack (7) is in place on cover (12).  Install cover (6) over output shaft (9) and shift fork (31)
being  careful  not  to  damage  oil  seal  (27).    Check  that  shift  fork  remains  engaged  with  sliding  clutch
while installing the cover.  Attach cover (6) to cover (12) and install yoke (5) as detailed in step 8.
(14)  Install air shift unit (2) as detailed in TM'.-4210-220-12.
REPAIR
NOTE
Repair of the power divider while installed on the axle is limited to replacement of input and output shaft
yoke and oil seals.
(1)
Remove drive shaft from input or output shaft yoke as applicable, see TM 5-4210-220-12.
(2)
Remove nut (1), washer (2), and yoke (3).  Replace yoke if damaged or faulty.
(3)
If oil seal (4) is leaking due to wear or damage, pry the leaking seal out of cover seat and replace it with
a new one.
(4)
Install  new  seal  with  spring  side  inward.    Use  a  suitable  sleeve  and  hammer  to  properly  seat  seal  in
bearing cover or cap.
(5)
Install yoke (3), washer (2), and nut (1).  Tighten nut to 960 ft lb (1300 Nm).
NOTE
It may be necessary to block or lower wheels to the ground to adequately torque yoke nut. (6) Install drive
shaft to yoke (see TM 5-4210-220-12).
2-274