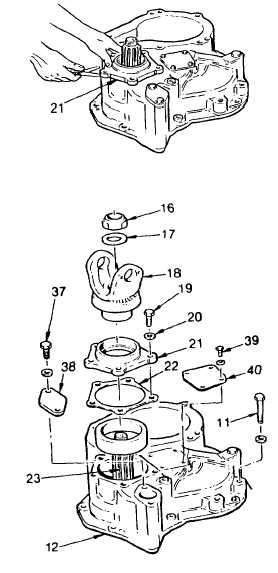 TM 5-4210-220-34
2-20.
REAR AXLE - Continued
(10)  Install power divider cover (12) on differential carrier.  Make sure that pinion shaft support bearing slips
into cup in cover (12).
(11)  Fasten cover (12) to differential carrier using nine capscrews (11) and lockwashers.  Tighten capscrews
to 125 ft lb (170 Nm).
(12)  Apply silicone sealant (item 28, Appendix B) to  covers  (38  and  40),  and  install  on  power  divider  cover
(12) using capscrews (37) and (39).  Tighten capscrews to 55 ft lb (75 Nm).
NOTE
To  ensure  proper  input  shaft  end  play,
necessary  shimming  of  cover  (21)  must
be  calculated  and  checked.    To  do  this
carry out steps 13 thru 19.  Repeat steps
as necessary.
(13)  Place cap (21) on power  divider  cover
(12).      Hold   cap   in   position   by   hand
pressure
and
measure
clearance
between cap and cover using a feeler
gage     as     shown.          The     measured
clearance  plus  0.005  in.    (0.13  mm)
equals the thickness of the initial shim
pack.
(14)  Install  cap  (21)  with  a  shim  pack  (22)
of   the   calculated   thickness.      Fasten
cap  using  five  capscrews    (19)    and
lockwashers.      Tighten   capscrews   to
85 ft lb (115 Nm).
(15)  Install yoke (18), washer (17),  and  nut
(16).  Tighten  nut  snugly.    Tap  lightly
on  the  end  of  input  shaft  (23)  to  seat
bearings.
2-271