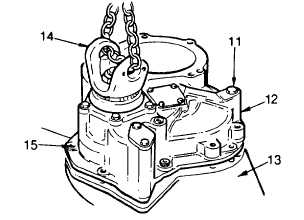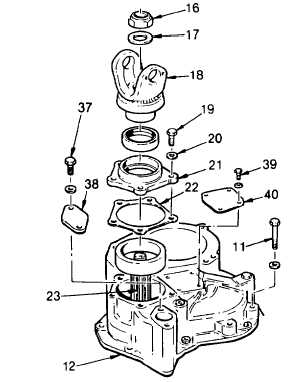 TM 5-4210-220-34
2-20.
REAR AXLE - Continued
2-20.1
Power Divider (Transfer Unit) - Continued
b.
Power     Divider     Cover     and     Input     Shaft
Removal
(1)
Remove nine capscrews (11) attaching
power divider cover (12) to differential
housing (13).
(2)
Attach  a  suitable  chain  to  input  shaft
yoke (14) and an overhead hoist.
(3)    Lift    power    divider    cover    off    carrier
housing.    If  it  binds,  free  the  cover  by
striking   it   lightly   using   a   soft   mallet.
Strike close to location of dowels (15).
(4)    Place power divider on a workbench on
suitable    support.         The     input     shaft
protrudes below the lower cover flange.
NOTE
The one-piece input shaft and gear can drop out of cover (12) when yoke (18) is removed.    To  prevent
damage, support shaft while removing yoke.
(5)
Remove   nut   (16),   washer   (17),   and
yoke  (18).  Remove  shaft  (23)  through
the open bottom of cover (12).
(6)
Remove
capscrews
(19),
washers
(20), bearing cap (21), and shims (22).
Remove input shaft assembly (23).
(7)
Remove  capscrews  (37  and  39)  and
remove covers (38 and 40).
NOTE
Before disassembling bearing cones and
cups  from  input  shaft,  bearing  cap,  and
power  divider  cover,    clean  and  inspect
all   items.      Unless   replacement   of   any
bearings, shaft, or covers is required, no
further   disassembly   should   be   carried
out.    For  disassembly,    refer  to  steps  8
thru 12 following.
2-268