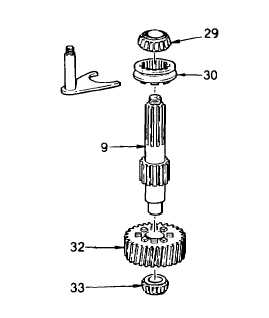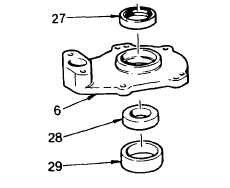 TM 5-4210-220-34
2-20.
REAR AXLE - Continued
(5)
Lift  and  remove  output  shaft  (9)  and  shift
fork (10) from power divider.
NOTE
Before
disassembling
output
shaft
components
clean
and
inspect
the
assembled
components.
Unless
replacement   of   one   or   more   parts   is
required,  the  output  shaft  should  be  left
assembled  for  reuse.    For  disassembly,
refer to steps 6 and 7 following.
To prevent damage to clutch teeth use a
suitable  sleeve  or  collar  to  support  gear
(32) while pressing shaft (9).
(6)
To
replace
output
shaft
components,
remove   bearing   cones   (29   and   33)   from
output shaft (9). Sliding clutch (30) will slide
off  shaft  when  cone  (29)  or  cone  (33)  and
gear   (32)   is   removed.      Use   a   split   type
puller to remove cone (29) from shaft. Use
a press to remove cone (33) and gear (32).
NOTE
If bearing (33) has to be replaced, remove bearing cup from power divider cover, see procedure b, step 11
following.
(7)
Remove oil seal (27) and discard.
Retain spacer (28) and, if necessary,
remove bearing cup (29) from bearing
cover (6) using a press and suitable
arbor.
2-267