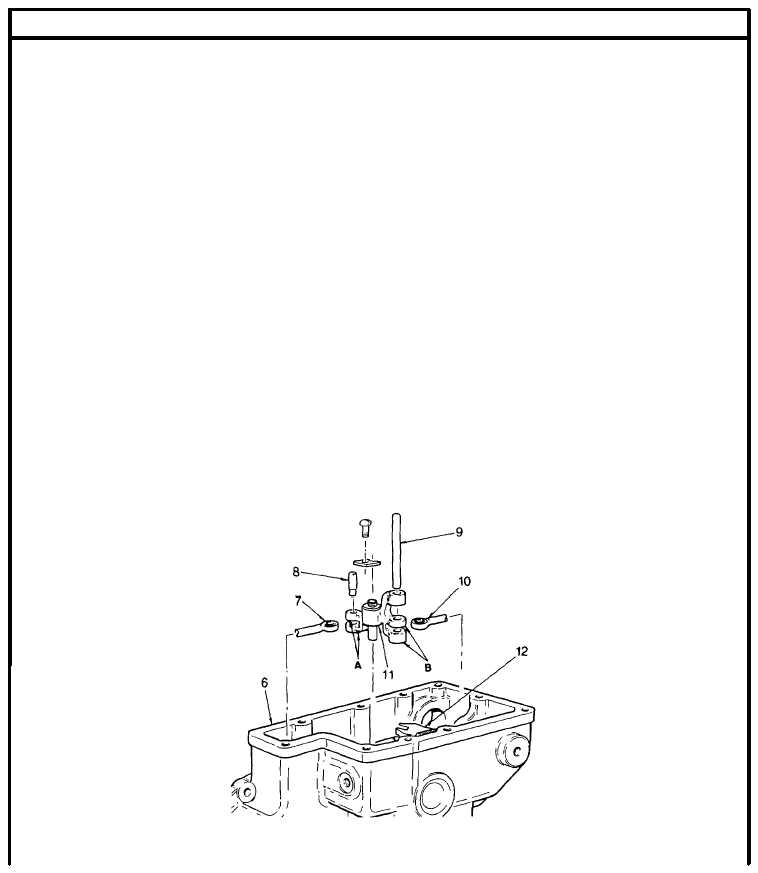 TM  5-4210-220-34
2-19.
ENGINE - Continued
(9)
Connect the opposite end of the fuel rod to the left bank injector control tube lever with a clevis pin and cotter
pin.
(10)
Insert the lower end of the right bank fuel rod down through the top of the governor housing and through the
fuel rod cover tube to the injector control tube lever.
(11)
Remove  the  short  screw  pin  (8)  from  the  control  link  operating  lever.    Insert  the  end  of  the  fuel  rod  (22)
between the two bosses (A) on the lever (11).
(12)
Install the screw pin (8).
(13)
Connect  the  opposite  end  of  the  fuel  rod  to  the  right  bank  injector  control  tube  lever  with  a  clevis  pin  and
cotter pin.
(14)
Affix a new gasket to the top of the governor housing.
(15)
Place the governor cover on the governor housing (6) with the pin in the speed control shaft aligned with the
slot in the differential lever (12).
(16)
Be sure the dowel pins in the housing locate in the cover and attach cover with screws.
NOTE
The short screw with the drilled head goes in the corner hole next to the high speed spring retainer housing.
(17)
Install fuel pump and hoses as detailed in TM 5-4210-220-12.
(18)
Install the thermostat cross header as detailed in TM 5-4210-220-12.
(19)
Adjust the governor as detailed in ADJUSTMENT preceding.
2-253