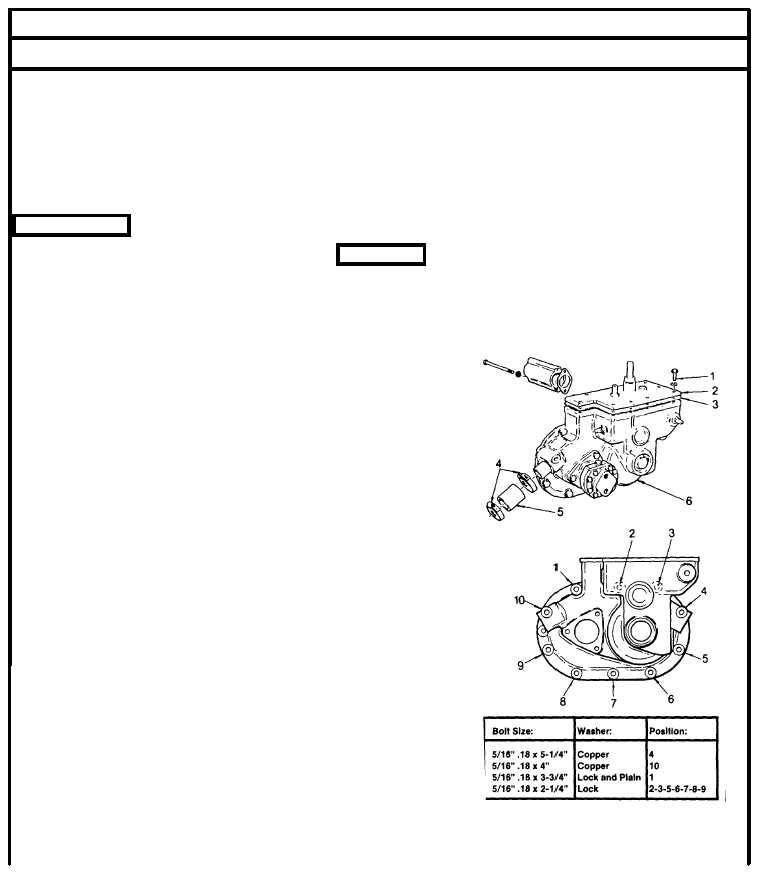 TM 5-4210-220-34
2-19.
ENGINE - Continued
2-19.13
Mechanical Governor - Continued
(8)
Note the location of the two copper, one plain, and eight lockwashers on the governor to blower bolts.
(9)
Remove the 10 bolts and washers securing the governor and fuel pump assembly to the blower.
(10)
Tap the sides of the governor housing lightly with a plastic hammer, and pull the governor straight out from
the dowels on the blower end plate.
(11)
Remove and discard the governor-to-blower gasket.
INSTALLATION
WARNING
JP-4 is a highly volatile fuel.  Extraordinary care must be taken when servicing components that use this fuel.
The truck shall be grounded to an approved grounding point if it contains JP-4.
(1)
If removed, place a fuel rod cover tube hose
(5)  and  clamp  (4)  on  each  fuel  rod  cover
tube  on  each  side  of  the  governor  housing
(6).
(2)
Place  a  new  gasket  on  the  forward  face  of
the  blower  end  plate.    Hold  in  place  with
petroleum jelly (item 21, Appendix B).
(3)
Push  the  governor  over  the  dowels  in  the
blower end plate and against the gasket.
(4)
Install
the
bolts,
lockwashers,
copper
washers,   and   plain   washers   as   shown.
Tighten all bolts to 17 ft lb (23 Nm).
(5)
Slide   each   fuel   rod   cover   tube   hose   (5)
down   on   the   cover   tube   on   the   cylinder
head and tighten the hose clamps (4).
(6)
Install    the    crossover    fuel    line    to    each
cylinder head.
(7)
Insert the lower end of the left bank fuel rod
down    through    the    top    of    the    governor
housing   and   through   the   fuel   rod   cover
tubes to the injector control tube lever.
(8)
Raise the connecting pin (9) up.  Insert the
end  of  the  fuel  rod  (10)  between  the  two
bosses (B) on the lever (11) and insert the
pin  through  the  fuel  rod  and  into  the  lower
boss.
2-252