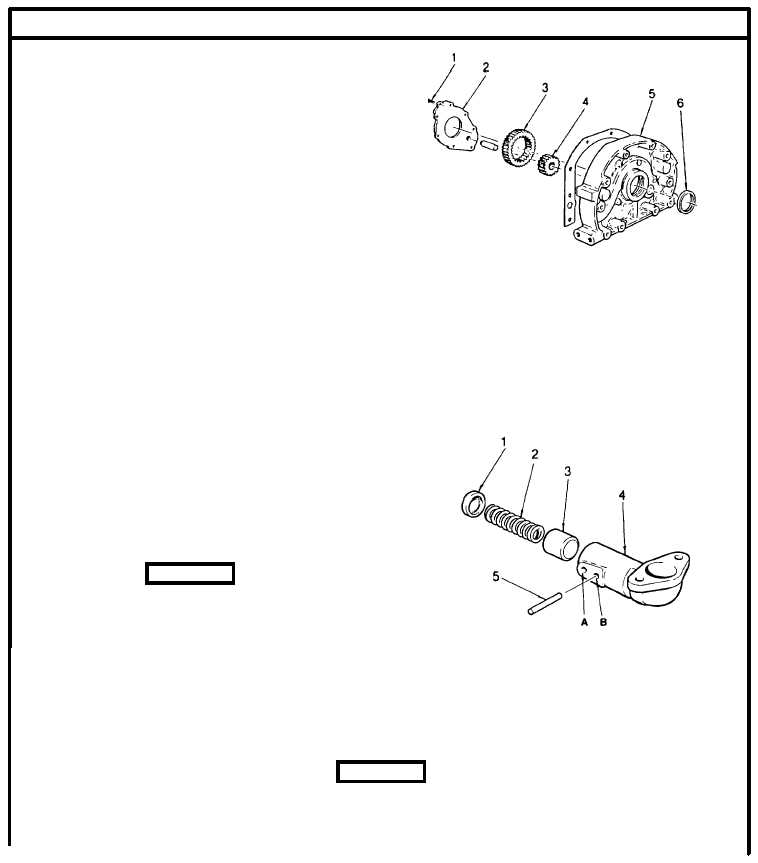 TM 5-4210-220-34
2-19.
ENGINE - Continued
(15)
Lubricate the oil pump gears (3 and 4) and
the  driven  gear  shaft  with  engine  oil  (item
17, Appendix B).
(16)
Install the oil pump gears (3 and 4).
NOTE
The  manufacturers  self-locking  capscrews  must
be used due to the close clearance between the
oil pump and the crankshaft.
(17)
Install    the    gear    retaining    plate    (2)    and
secure  it  to  the  crankshaft  front  cover  (5)
using    the    self-locking        capscrews        (1).
Tighten    the  capscrews  (1)  to  17  ft  lb  (23
Nm).
b.
Regulator/Relief Valve Repair
NOTE
The  oil  pressure  regulator  and  oil  pressure  relief  valve  both  have  all  the  same  parts.    The  only  difference
between  the  two  valves  is  the  location  of  the  retaining  pin  (5);  pin  location  changes  the  valve  opening
pressures.  Ensure to position pin in correct hole during valve assembly.
(1)
Clamp  the  body  (4)  in  the  soft  jaws  of  a
vise.
(2)
Remove   the   spring   seat   retaining   pin   (5)
from the valve body (4).
(3)
Remove the spring seat (1), spring (2), and
valve (3) from the valve body (4).
WARNING
Dry    cleaning    solvent    P-D-680    (safety    or    Stoddard's
solvent)  is  potentially  dangerous.    Avoid  repeated  and
prolonged breathing of vapors and  skin  contact  with  the
liquid.  Do not use near open flame, arcing equipment or
other  ignition  sources.    Always  wear  eye  protection  and
protective clothing.  The flash point of P-D-680 is 100 to
138 deg.  F (30 - 59 deg.  C).
(4)
Wash   all   components   using   dry   cleaning
solvent (item 10, Appendix B).
PIN
LOCATION
A - PRESSURE REGULATOR
B - PRESSURE RELIEF VALVE
WARNING
Death or serious injury could occur if compressed air Is directed against the skin.  Do not use compressed
air for cleaning or drying unless the pressure is/has been reduced to 30 psi (2.11 kg/cm2) or less.  When
working   with   compressed   air,   always   use   chip   guards   eye   protection   and   other   personal   protective
equipment.
2-235