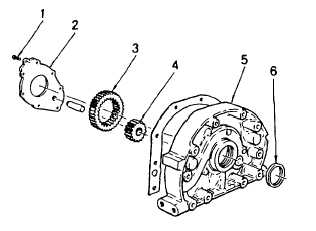 TM 5-4210-220-34
2-19.
ENGINE - Continued
2-19.10
Oil Pump - Continued
(5)
Remove  the  screen  and  cover  from  the  oil
inlet pipe assembly.
WARNING
Dry cleaning solvent P-D-680 (safety or Stoddard's
solvent)  is  potentially  dangerous.    Avoid  repeated
and    prolonged    breathing    of    vapors    and    skin
contact   with   the   liquid.      Do   not   use   near   open
flame,  arcing  equipment  or  other  ignition  sources.
Always
wear
eye
protection
and
protective
clothing.  The flash point of P-D-680 is 100 to 138
deg.  F (30 to 59 deg.  C).
(6)
Wash  all  the  oil  pump  components  using
dry cleaning solvent (item 10, Appendix B).
WARNING
Death or serious injury could occur if compressed air is directed against the skin.  Do not use compressed air for
cleaning  or  drying  unless  the  pressure  is/has  been  reduced  to  30  psi  (2.11  kg/cm2)  or  less.    When  working  with
compressed air, always use chip guards eye protection and other personal protective equipment.
(7)
Dry all components using compressed air.
(8)
Examine the oil pump gear cavity in the crankshaft front cover.  Replace the cover if the surfaces are worn or
scored excessively.
(9)
Replace the driven gear shaft if it is worn or scored excessively.  When a new shaft is pressed in place, the
shoulder on the shaft must be flush to 0.020 in.  (0.508 mm) below the finished face of the crankshaft front
cover.
(10)
The clearance between the driven gear bushing and the shaft is 0.0010 in.  (0.025 mm) to 0.0025 in.  (0.064
mm) when new parts are used, or a maximum of 0.0035 in.  (0.089 mm) with used parts.
(11)
Inspect the teeth on  the  oil  pump  gears  and  the  pump  drive  hub.    Also,  examine  the  bushing  in  the  driven
gear for wear.  The bushing is not serviced separately.  Therefore, if the bushing is worn, it will be necessary
to replace both the drive and driven gears as they are only serviced as a set.  The use of excessively worn
gears will result in low oil pressure which may cause serious damage throughout the engine.
(12)
Inspect the inner face of the oil pump gear retaining plate.  Replace the retaining plate if it is scored or worn.
(13)
Reassemble the screen, cover, and oil intake pipe.
(14)
Drive  a  new  6il  seal  (6)  into  the  crankshaft  front  cover  (5)  using  tool  J9783  and  a  hammer.    The  tool  is
designed to drive only on the outer edge of the seal casing to prevent seal damage.
2-234