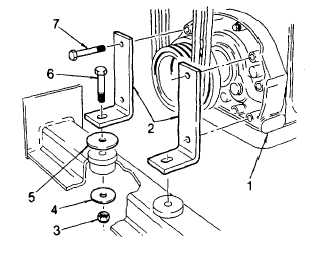 TM 5-4210-220-34
2-19.
ENGINE - Continued
2-19.10
Oil Pump
This task covers
a.
Removal
b.
Installation
c.
Repair
TOOLS
Fan Removed From Hub (see TM 5-4210-220-12)
Shop Equipment, AutomotiveDrive Belts Removed (see TM 5-4210-220-12)
Maintenance and Repair,
Oil Pan Removed (see para.  2-19.11)
NSN 4910-00-754-0705
J24420-A Puller
MATERIALS/PARTS
J9783 Front Oil Seal Installer 17, Appendix B Engine Oil
J22425A Front Oil Seal Expander
32, Appendix B Vegetable Shortening
5121714 Front Cover Gasket
EQUIPMENT CONDITION
5117230 Oil Pan Gasket
Main Engine Shutdown (see TM 5-4210-00220-12)
5117269 Pressure Regulator Gasket
APU Shutdown (see TM 5-4210-220-12)
5117269 Pressure Relief Valve Gasket
Batteries Disconnected (see TM 5-4210-220-12)
5115454 Crankshaft Oil Seal
Front Heat Shield Removed
(see TM 5-4210-220-12)
WARNING
To reduce the risk of personal injury when barring over or "bumping" the starter while performing an engine
tune-up, personnel should keep their hands and clothing away from the moving parts of the engine as there is
a remote possibility the engine could start.
REMOVAL
NOTE
Whenever  the  oil  pump  is  removed  for  service,  also  remove  and  inspect  the  oil  pressure  regulator  and  oil
pressure relief valves.
(1)
Support   the   main   engine   (1)   by   one   of   the
following methods.
(a)
Remove  engine  canopy  (see  TM 5-4210-
220-12).  Use an overhead crane to support
engine weight before removing front engine
mounts.
(b)
Using   a   floor   jack   and   a   block   of   wood,
support the weight of the engine on front of
the  cylinder  block.    Position   maintenance
trestles, on either side of the cylinder block
before removing engine mounts.
(2)
Remove  engine  mount  nuts  (3),  washers  (4),
and capscrews (6).
2-228