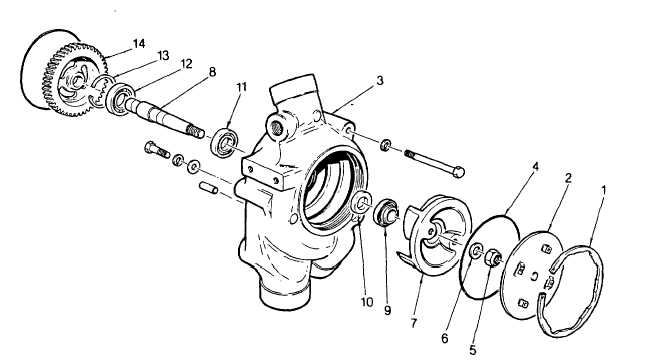 TM 5-4210-220-34
2-19.
ENGINE - Continued
(43)
Slippage of impeller or gear should not occur at this torque.
(44)
If slippage is felt, remove pump assembly from vise and examine the scribe marks.  Determine whether the
gear or impeller turned on shaft.  In either case, the shaft must be replaced along with the component that
turned.
(45)
After replacing necessary parts, retest the water pump assembly for slippage
(46)
Insert a feeler gage into the water outlet opening of the pump.  The clearance between the impeller and the
pump body must be a minimum of 0.015 in.  (0.38 mm).  Repair or replace pump assembly to obtain desired
clearance.
(47)
If  pump  is  to  be  stored  after  rebuild,  carry  out  steps  48  and  49.    If  it  is  to  be  installed  on  the  engine,  see
INSTALLATION preceding.
(48)
Install new cover seal ring using grease (item 16, Appendix B) in groove and on seal ring.
(49)
Install cover securely in place with snap ring.
2-227