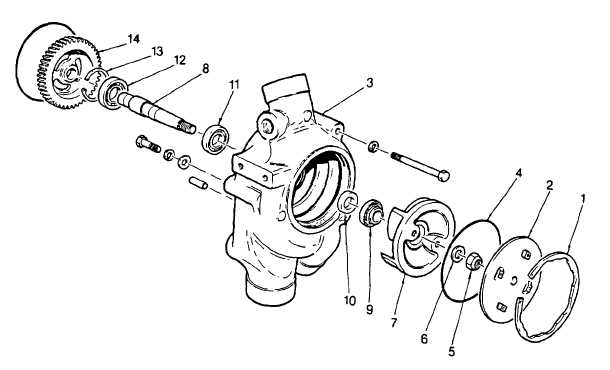 TM 5-4210-220-34
2-19.
ENGINE - Continued
2-19.9
Water Pump - Continued
(13)  Remove and discard the cover seal ring (4).
(14)  Push the oil seal (10) out of pump body (3).
NOTE
New seals and a new ceramic impeller insert must be used each time a water pump is repaired.
WARNING
Dry cleaning solvent P-D-680 (safety or Stoddard's solvent) is potentially dangerous.  Avoid repeated and
prolonged  breathing  of  vapors  and  skin  contact  with  the  liquid.    Do  not  use  near  open  flame,  arcing
equipment or other ignition sources.  Always wear eye protection and protective clothing.  The flash point
of P-D-680 is 100 to 138 deg.  F (30 to 59 deg.  C).
Death or serious injury could occur if compressed air is directed against the skin.  Do not use compressed
air for cleaning or drying unless the pressure is/has been reduced to 30 psi (2.11 kg/cm2) or less.  When
working   with   compressed   air,   always   use   chip   guards   eye   protection   and   other   personal   protective
equipment.
(15)  Wash all parts in dry cleaning solvent (item 10, Appendix B) and dry with compressed air. Inspect and replace
damaged or worn parts.
(16)  Make sure "Y" drain passage in housing is clear of any obstructions.
(17)  Examine  bearings  for  corrosion,  pitting  and  freedom  of  movement.    Replace  bearings  if  any  found  faulty.
Always replace both bearings.
2-224