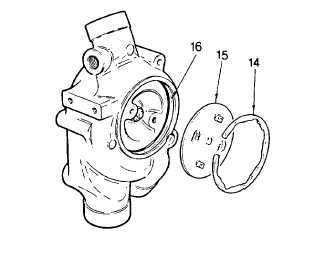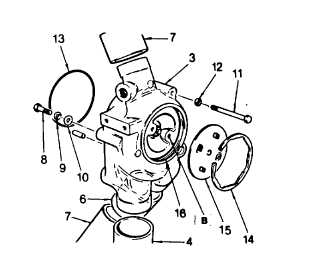 TM 5-4210-220-34
2-19.
ENGINE - Continued
INSPECTION
(1)     Inspect winterization valve block on water pump housing and inspect the valves.  Check seats are clean and
valves operate smoothly.  Replace any valves failing inspection.
(2)     If   a   new   water   pump   is   to   be   installed,
remove  valve  block  from  old  housing  and
install  on  new  housing.    Coat  threads  with
pipe sealant (item 22,  Appendix B) prior to
installation.
(3)     Mount pump drive gear in a soft jawed vise.
(4)     Using snap ring pliers, remove snap ring
(14).
(5)     Lift  off  pump  cover  (15).    Do  not  remove
seal ring (16).
(6)     Remove water pump from vise and rotate impeller by hand.  Check for any looseness in the bearing.  Repair
as required.  See REPAIR following.
(7)     If required, check impeller for build up of contaminants or foreign material.  Remove impeller and repair as
detailed in REPAIR following.
INSTALLATION
(1)     Install seal ring (13) on pump body.  Use grease (item 16, Appendix B) to hold in position.
(2)     Mount pump on the engine.  Be sure pump meshes
with  front  right-hand  camshaft  gear  and  dowel  pin
engages in front engine plate hole.
(3)     Install   and      tighten      mounting      bolts   (11)   and
washers (1 2).
(4)     Install  and  tighten  mounting  bolt  (8),  washer  (10),
and lockwasher (9).
(5)
Install  a  bolt  in  the  impeller  puller  holes  (B)   and
measure  the  backlash  with  a  dial  indicator.    Rear
backlash  should  be  0.001  0.006  in.    (0.025  0.15
mm).
(6)     Adjust   backlash   to   these   limits   by   loosening   bolts   (8   and   11)   and   pivoting   pump   either   clockwise   or
counterclockwise.
(7)     Retighten mounting bolts to 50 ft lb (68 Nm).
(8)    Install pump cover (15) on water pump housing.  Be careful not to damage front seal ring (16) in housing.
2-221