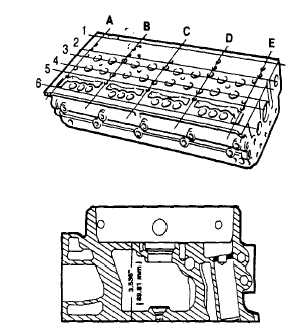 TM 5-4210-220-34
2-19.
ENGINE - Continued
2-19.8
Cylinder Head - Continued
(4)  Using   a   heavy   accurate   straight   edge   and   feeler
gage  J3172,  check  for  longitudinal  and  transverse
warpage   of   the   head   as   shown.      The   maximum
longitudinal  warpage  allowable  is  0.0055  in.    (0.140
mm); the maximum transverse warpage allowable is
0.0040 in.  (0.102 mm).
To  prevent  failure  of  an  engine  when  rebuilt,  do  not
remove  more  metal  from  the  fire  deck  of  any  cylinder
head  below  the  minimum  distance  of  3.536  in.    (89.81
mm).
(5)     The   cylinder   head   may   be   refaced   provided   the
injector tubes are removed prior to machining.  The
water nozzles may remain in the head.
(6)
After refacing the head, the protrusion of valve seat
inserts   (2-19.7),   exhaust   valves   (2-19.7),   injector
tubes (2-19.5) injector spray tip spray tips (2-19.5),
and push rods (2-19.4) must be checked and corrected.  The water nozzle bores must also be deburred.
(7)     Inspect the exhaust valve seat inserts and the valve guides as detailed in 2-19.7.
(8)     Inspect the cam follower bores in the cylinder head for scoring or wear.  Light score marks may be cleaned
up with emery cloth (item 13, Appendix B).
(9)     Measure  the  diameter  of  the  cam  followers  with  a  micrometer  and  compare  with  similar  readings  for  each
bore.    The  follower  cylinder  head  clearance  must  not  exceed  0.006  in.    (0.15  mm)  with  used  parts.    If  the
bores are excessively worn or scored replace the cylinder head.
(10)  Check the water hole nozzles for looseness.  Replace nozzles if loose as detailed in REPAIR following.
(11)  Replace broken or damaged studs.  Apply threadlock liquid (item 29, Appendix B) to the new studs.  Install
and torque to 40 ft lb (54 Nm).
(12)  Inspect the pilot sleeves in the cylinder head bolt holes at each end of the head on the camshaft
side.  Replace any damaged or loose sleeves using an arbor press (these sleeves are installed
to provide a close fit for the cylinder head bolts used when installing the head on the engine).
(13)  If  injectors  are  removed,  remove  all  cylinder

 

head
to-fuel  pipe  connectors  and  inspect   for   damaged
threads.  Remove  all seals and discard.
(14)  Coat  all plugs that were removed cleaning for with
pipe  sealant (item Appendix B) and install.  Tighten
to the following torques.
NPT Size
Recommended Torque
1/8-27
12 ft lb
(16 Nm)
1/4-18
16 ft lb
(22 Nm)
3/8-18
22 ft lb
(30 Nm)
1/2-14
27 ft lb
(37 Nm)
3/4-14
37 ft lb
(50 Nm)
2-216