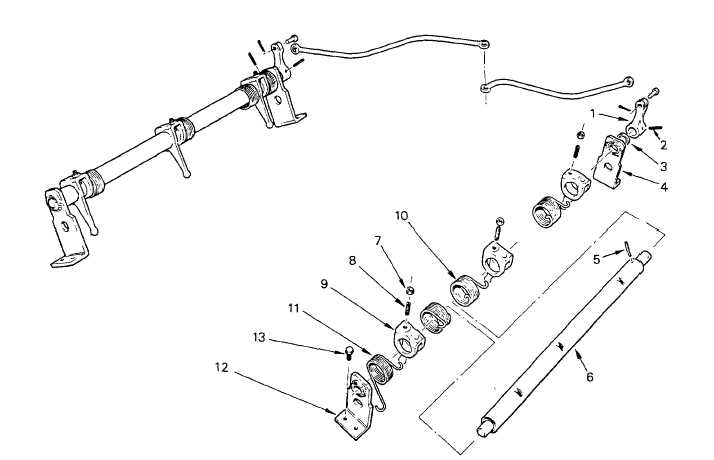 TM 5-4210-220-34
2-19.
ENGINE - Continued
2-19.6
Injector Controls - Continued
REPAIR
NOTE
The injector control tube, one mounting bracket, a spacer and an injector control tube lever are available
as   a   service   assembly.      When   any   part   of   this   assembly   requires   replacing,   the   complete   service
assembly should be replaced.  (Items 1 - 6 on the illustration).
Similar   procedures   apply   to   both   control   tube   assemblies   except   as   noted.   To   repair,   control   tube
assembly must be removed from cylinder head.
(1)     On  right  hand  tube,  disconnect  spring  (11)  and  remove  bracket  (12)  from  control  tube.    On  left  hand  tube,
remove bracket only.
(2)     Loosen the adjusting screws (8) and locknuts (7) on each Injector rack control lever.
(3)     Disconnect the yield springs (10) from each rack lever and roll the other end of the spring out of the notch on
the control tube.
(4)     On left hand tube, disconnect spring (11) from the front bracket.
(5)     Slide springs (10 and 11) and rack levers from the control tube.
2-200