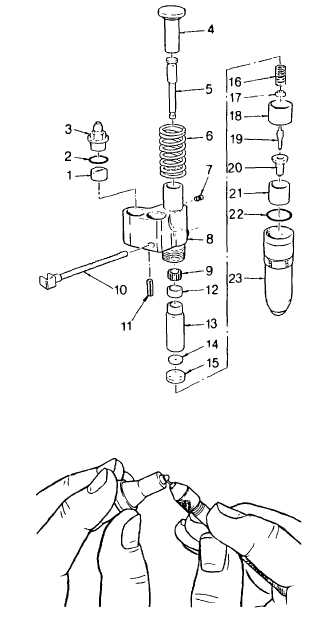 TM 5-4210-220-34
2-19.
ENGINE - Continued
2-19.5
Injectors - Continued
(1)
Wash  all  components  In  dry  cleaning  solvent
(item  10,  Appendix  B).    Discard  filter  (1)  and
seal  ring  (22).    Dry  all  parts  with  compressed
air.  Clean out all passages and drilled holes.
(2)
If  there  is  carbon  in  the  spray  tip  (20)  soak  in
methyl  ethyl  ketone  (item  19,  Appendix  B)  for
15   minutes.      Clean   the   spray   tip   with   tool
J24838.  Be  careful  not  to   push   too   far   and
contact the needle valve seat in the end of the
tip.
(3)
Clean the spray tip orifices with pin vise J4298-
1   and   wire   J21461-01   (0.006   in.).      Before
using the wire, hone the end until free of burrs;
taper the end with stone J8170.  Allow wire to
extend 1/8 in.  beyond pin vise.
(4)
Buff  the  exterior  of  the  spray  tip  with  a  brass
wire  buffing  wheel  J7944.    Hold  the  spray  tip
with tool J24838.  Lightly buff the tip end.
(5)
Clean and brush all passages in the body using
fuel  hole  brush  J8152,  and  rack   hole   brush
J8150.
(6)
Insert   reamer   J21089   into   the   injector   body
turning  in  a  clockwise  direction  a  few  turns.
Check   reamer   contacts   entire   face   of   inner
ring. Repeat as required.
(7)
Clean up opposite end of the ring by inserting reamer J21089 in the other end of the body and repeating
step 6.
(8)
Insert a straight fluted 0.375 in.  reamer inside the ring bore of the injector body and rotate clockwise to
remove any burrs in the ring.  Wash and blow dry the injector body.
(9)
Carefully  insert  carbon  remover  J9418-5  into  injector  nut.    Turn  in  clockwise  direction  a  few  turns.
Remove  reamer  rotating  clockwise.    Use  care  to  minimize  removing  metal  or  setting  up  burrs  on  the
spray  tip  seat.    Remove  only  enough  metal  to  produce  a  clean  uniform  seat.    Replace  the  nut  if  it  is
severely damaged.
2-186