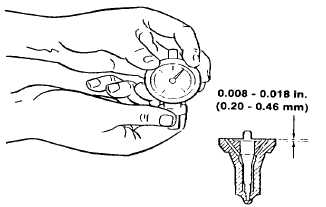 TM 5-4210-220-34
2-19.
ENGINE - Continued
2-19.5
Injectors - Continued
(2)
Follow the test equipment manufacturers recommended test procedures and perform the
•
Injector Throughput Test
•
Injector High Pressure Test
•
Injector Pressure Holding Test
d.
Fuel Output Test
(1)
To check the fuel output, mount the injector in tester J22410 or similar model tester.  Ensure the inlet
and outlet fuel lines are connected properly.  If not the dirt on the inlet filter may be backwashed through
the injector.  Be sure to install the injector exactly as the tool instructions detail.
e.
Needle Valve Tip Test
(1)
Using auxiliary tester J22640 and test J23010 or similar type equipment, perform needle valve tip test
following the tool manufacturers instructions
f.
Needle Valve Lift Test
(1)
Place  tool  J9462-02  plunger  on  a  flat
surface and zero the gage.
(2)
Place the needle valve in the spray tip.
(3)
Insert  the  quill  of  the  needle  valve  in
the hole of  the  plunger  of  tool  J9462-
02.
(4)   Hold the spray tip land tight against the
gage.   The   dial   should   read   0.008   -
0.018 in.  (0.20 -0.46 mm).
(5)
If it is greater than 0.018 in.  (0.45 mm) replace the needle valve and tip.  If it is less than 0.008 in.  (0.20
mm) inspect spray tip seat or needle valve for foreign material.  If the lift is satisfactory, test g.  failed
because  of  a  weak  spring.    Repeat  test  g.    with  a  new  spring  or  new  spray  tip  assembly  depending
which failed.
REPAIR
NOTE
Injector  must  be  removed  from  truck.    Before  any  repair  can  be  carried  out  the  injector  must  be
disassembled.
a.
Disassembly Prior To Repair
(1)
Clamp injector in injector holding fixture J22396.
(2)
Remove filter caps (3), gaskets (2), and filter (1).  Discard the filter (inlet side only) and gaskets.
2-184