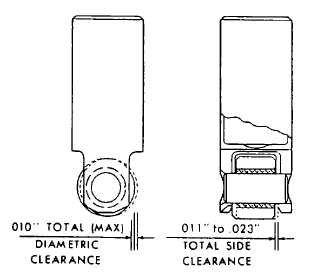 TM 5-4210-220-34
2-19.
ENGINE - Continued
2-19.4
Rocker Arms, Cam Follower, And Push Rods - Continued
(5)
Inspect the rocker arm shaft brackets for cracks.
(6)
Examine    the    cam    follower    rollers    for    scoring,
pitting or flat spots.  The rollers must turn freely on
their pins.
(7)
Measure  diametric  clearance  and  side  clearance
as  shown.    Replace  roller  and  pin  if  clearances
are exceeded (see REPAIR following).
(8)
Examine the camshaft lobes for scoring, pitting or
flat  spots.    If  camshaft  requires  repair,  refer  to
General Support.
(9)
Measure  the  cam  follower  bores  in  the  cylinder
head  with  a  telescope  gage  and  micrometer  and
record the readings.
(10)  Measure the diameter of the cam followers with a micrometer.  Record the readings and compare the
readings  of  the  followers  and  bores  to  determine  the  cam  follower-to-bore  clearances.    Maximum
clearance should be 0.005 in.  (0.13 mm).
(11)  If  the  push  rod  is  broken  or  damaged,  the  rocker  arm  should  be  suspect.    Any  wear  or  excessive
movement  in  the  rocker  arm  or  clevis  can  put  a  side  load  on  the  push  rod,  resulting  in  fracture  or
damage.
(12)  Inspect the rocker arm for signs of wear or cracking.  If wear or excessive movement of the rocker arm
or clevis is noted, replace the rocker arm.
(13)  Inspect the push rods and spring seats for wear.  The push rods have milled wrench flats and a bright
"turned" finish and the lower spring seats are serrated along the push rod contact surfaces.
(14)  Examine  the  cam  follower  springs  for  wear  or  damage  and  check  the  spring  load.    Replace  a  spring
when a load of less than 250 lb (113 kg) will compress it to a length of 2.1406 in.  (54.371 mm).  Use
spring tester J22738-02 to check the spring load.
INSTALLATION
(1)
Before  cam  followers  are  installed,  immerse
them in clean engine oil (item 17, Appendix B)
heated to 100 - 125 deg.  F (38 - 52 deg.  C)
for  at  least  one  hour.    Rotate  rollers  regularly
to ensure bushing is purged of air.
(2)
Install  cam    followers  and  push  rods  in  their
original    locations    as    noted    in    REMOVAL
preceding.
(3)    Note the oil hole In the bottom of the cam the
follower.  With the oil hole directed away from exhaust valves, slide the cam follower in position in the
cylinder head.
2-176