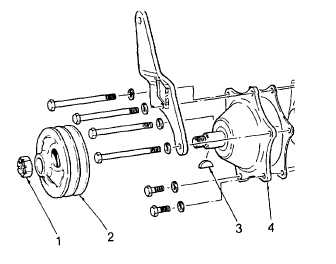 TM 5-4210-220-34
2-19.
ENGINE - Continued
b.
Alternator Drive Repair
NOTE
Drive  unit  removed  from  engine.    Only
repair   parts   are   the   retainer   assembly
and  the  pulley.    If  bearing  or  seal  has
failed  remove  pulley  from  retainer  and
replace retainer.
(1)
Remove   pulley   retaining   nut   (1)   and   pull
pulley (2) from shaft.
(2)
Remove key (3).
(3)
Replace failed component and attach pulley
(2)  and  retainer  (4)  together  with  key  (3)
and nut (1).
(4)
Install  drive  unit  on  engine  as  detailed  in
INSTALLATION preceding.
2-171