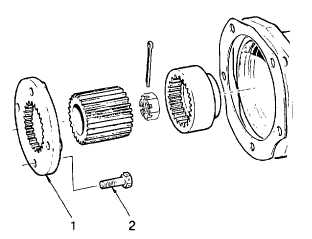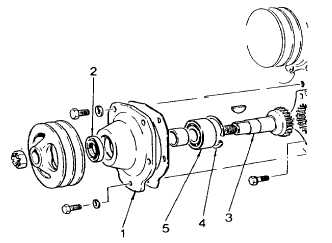 TM 5-4210-220-34
2-19.
ENGINE - Continued
2-19.2
Accessory Drive - Continued
d.
Rear
Accessory
Drive
Assembly(direct-drive)
Installation
(1)    Aline the bolt holes in the accessory drive plate
(1) with the tapped holes In the camshaft gear.
(2)
Secure   the   drive   plate   with   the   four   special
shoulder bolts (2).  Tighten the bolts to 45 ft lb
(61 Nm).
(3)
Install the air compressor as detailed in TM 5-
4210-220-12.
REPAIR
a.
Steering Pump Drive Repair
NOTE
Drive unit removed from engine.
(1)
Using a press, push drive shaft (3) out of retainer (1)
(2)
Remove snap ring (4) and pull bearing (5) out of retainer.
(3)
Pull oil seal (2) out of retainer Discard oil seal.
(4)
Place the accessory drive retainer on a bench,
with  the  mounting  flange  side  up.    Lubricate
the outside diameter of the bearing (5) with oil
(item 17, Appendix B).  Press or tap It (with the
protruding face of the inner race facing toward
the   retainer)   straight   in   until   It   contacts   the
shoulder in the retainer.  Then install the snap
ring (4).
(5)
Turn  the  retainer  over  and  coat  the  oil  seal
recess with silicone sealant (item 28, Appendix
B).    Press  a  new  oil  seal  into  the  bore  of  the
retainer   with   the   lip   of   the   seal   facing   the
bearing.    Wipe  any  excess  sealant  from  the
retainer.
(6)
Turn the retainer over again, bearing side up.  Lubricate the drive shaft and press it in the bearing until
the shoulder on the shaft contacts the bearing.
(7)
Install the drive unit as detailed in INSTALLATION preceding.
2-170